6/29-7/3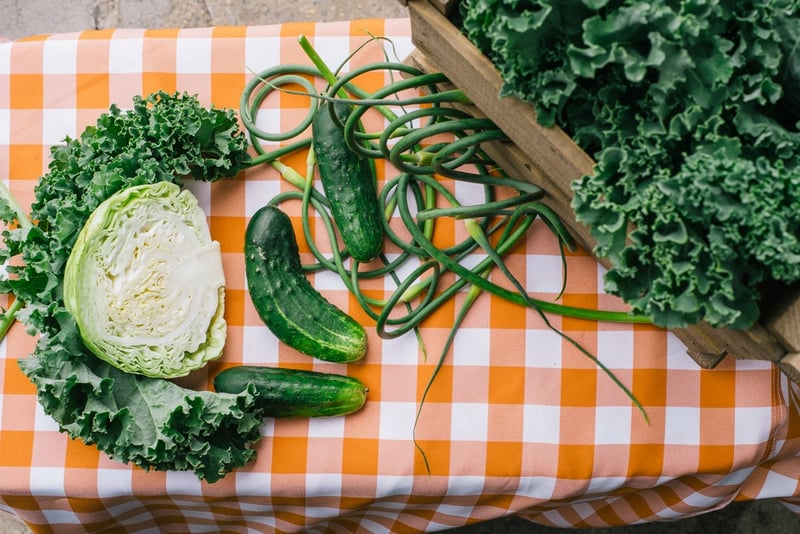 The mercurial early summer weather continues to keep our organic farm partners on their toes. Gideon Porth at Atlas Farm reported that the heat caused a few rows of arugula to bolt prematurely, but the plentiful rain helped his early plantings of collard greens grow to full size in time for harvest.
With organic cabbage, kale, bok choy and mint also coming out of the Pioneer Valley and golden beets and hot house tomatoes on their way down from Vermont, there are about a dozen different salad combinations we're looking forward to trying this week.
But perhaps the most exciting development from our network of New England farmers, is the availability of fresh escarole. Though it looks like a head of curly leaf lettuce, escarole is a member of the endive family. Organic escarole contains high concentrations of folic acid and both vitamins A and K.
With its slightly bitter flavor, escarole is a wonderful addition to salad mixes; especially when paired with a salty dressing. You can also slice a head of escarole in half and grill it with a little olive oil and salt.
When exposed to heat, the leafy green develops a delicious nutty flavor. That's why this recipe for Braised Escarole with Garlic and Lemon works so well. Though the recipe only calls for a few basic ingredients, when you use locally-grown, organic escarole this side dish will burst with fresh flavor.
---
This Week's Local Produce
Arugula
Cabbage
Collard Greens
Pickling Cucumbers
Kale
Red Leaf Lettuce
Scallions
Summer Squash
GarlicScapes Escarole


Bok Choy
Kohlrabi
Mint
Potted Basil Bunched Golden Beets
Hot House Tomatoes
All of the fruits and vegetables we deliver are grown without synthetic pesticides and are USDA certified organic. Interested in receiving produce that's both organic and locally sourced all year round? Check out our Local Dogma Box.
Similar to a CSA or farm share, our Local Dogma Box is filled with the best organic produce from local and regional farms and brought right to your door each week. It's the easiest way to eat like a locavore!