Though Thanksgiving has passed, the message, like all of the leftovers in our fridge, lasts. We hope everyone was able to enjoy connecting with friends and family to celebrate. In the spirit of bringing-together, of gathering, we're enjoying recipes this week that join both fruit and vegetables.
Come together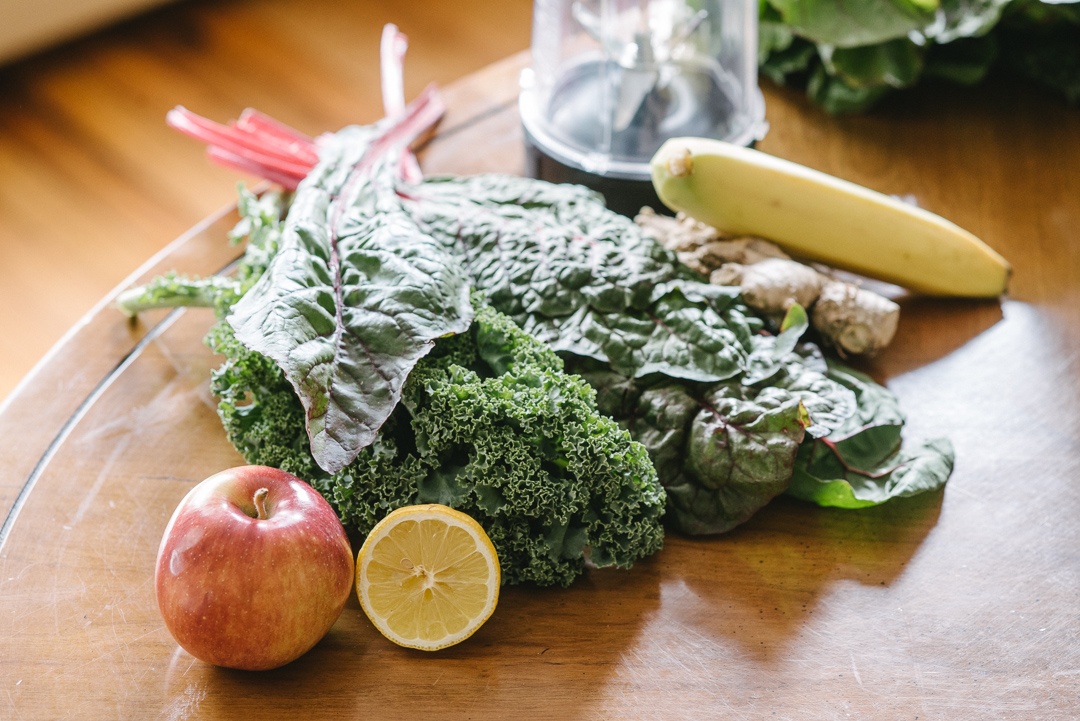 ---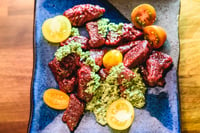 Red Beet Gnocchi with Meyer Lemon Pesto: The color of this dish alone will be enough to win over even the most hesitant root-eater. Enoy the earthy flavor of beets and the pillow-like texture of gnocchi. Meyer lemons help bring out the sweetness of their new root friends while adding a slightly tart brightness to the dish.
---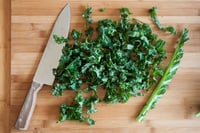 Kale Salad with Roasted Apples and Pomegranate: Hearty kale beautifully complements tender roasted apples and crunchy pomegranate seeds. The blend of sweet and savory flavors makes this a satisfying side, or make it into a light meal with some soft goat cheese crumbled on top.
---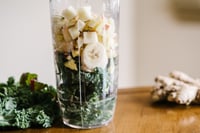 Juice and Smoothies: Juices and smoothies are a great venue for fruits and veggies to mix and mingle. No juicer, no problem: this carrot juice recipe uses a blender and a strainer to extract the juice from the tasty orange roots, while oranges and a bit of ginger help make the juice both warm and refreshing. If your body is yearning for greens, try this tasty green smoothie, which combines green leafies with apples or pears and banana for a perfect burst of nutrition.
---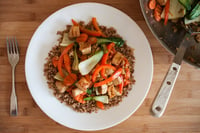 Orange Ginger Tofu: Fresh orange juice and spicy ginger add sparkle to this tofu and veggie dish, perfect for adding some color to a cold evening. Try experimenting with different vegetables - this recipe is as versatile as it is delicious.
---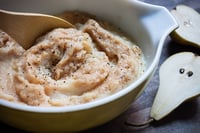 Mashed Potatoes and Turnip with Pear Puree: Mashed potatoes are definitely a Thanksgiving favorite, but they needn't disapear with the last of the leftovers. The colder months are a time for enjoying hardy roots, potatoes included. Let them surprise you with this sweet and savory recipe for Mashed Potatoes and Turnip with Pear Puree. A perfect side for pork or poultry, this dish is also sure to be a child-pleaser too.

Keep on the sunny side
As the weather continues to get cold, Winter Moon Farm of Hadley, MA will bring us a true wealth of roots, starting with rutabagas this week. Throughout the fall, Michael Docter is busy, growing, harvesting and storing the delicious vegetables that the Boston Organics community will be able to enjoy all winter long.
Winter Moon's operations are moving towards carbon-neutrality. In addition to the solar panels used to provide much of the electricity for the farm, a unique system of fans mixes cold outside air with refrigerated air to keep the root vegetables at the ideal temperature.
Enjoy the rutabagas from this week's box in a flavorful Toasted Farro Salad with Roasted Leeks and Root Vegetables.
See below for a complete list of this week's local produce.

---
This Week's Local Produce

All of the fruits and vegetables we deliver are grown without synthetic pesticides and are USDA certified organic. Interested in receiving produce that's both organic and locally sourced all year round? Check out our Local Dogma Box.
Similar to a CSA or farm share, our Local Dogma Box is filled with the best organic produce from local and regional farms and brought right to your door each week. It's the easiest way to eat like a locavore!