Coley took over as the marketing manager at Boston Organics in the summer of 2017 after working for a handful of local tech startup and, before that, as the marketing manager of a grocery co-op in Tucson, Arizona.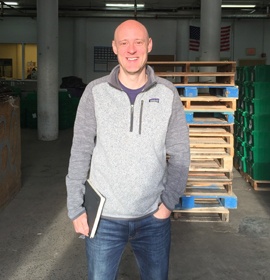 Name: Coley Ward
Position: Marketing Manager
Hometown: Wallingford, PA
Favorite fruit and/or vegetable: Red Bell Peppers
Tell us about yourself.
I graduated from Connecticut College in 2003 with a degree in English. Much of my time in college was spent working for the college newspaper, and after graduation I went to work in journalism, first as a production assistant for a morning show on ESPN and later as a reporter for a weekly newspaper on Martha's Vineyard, an alternative paper in Atlanta, and a daily in Tucson, Arizona.
In Tucson, I was introduced to the world of natural foods. I became the marketing manager for a cooperatively-owned grocery store. While I was there we built an urban farm on the store's back lot and grew fruits, vegetables and herbs that were sold in the store and used in the co-op's prepared foods. At the co-op I got to know some of Tucson's small farmers and gained an appreciation for how hard independent farmers work (especially in the desert).
What brought you to Boston?

My wife grew up in the Boston suburbs and we returned to the area in 2014, settling down in Auburndale with our two kids, Cassidy (5) and Rocco (1). In my spare time I like to play soccer and take family canoe trips on the Charles River.
What are your favorite foods to cook?
Since we had our second kid, I find myself making more practical dinners, like pasta, stirfries and curries. But every once in a while I like to do something more ambitious, like homemade pasta. I make a lot of pizzas and dream of someday building my own backyard pizza oven. Oh, and I brew my own beer, though again not as frequently as I'd like.
I don't bake much but I make decent cookies and I fervently believe chocolate chip cookies are best when make with dark chocolate chips and a sprinkle of sea salt on top.