Renae joined Boston Organics in the fall of 2017 as our newest purchasing associate. She brings a wealth of experience with produce, from working on an urban farm in Philadelphia to handling operations for a farm-to-office meal delivery company.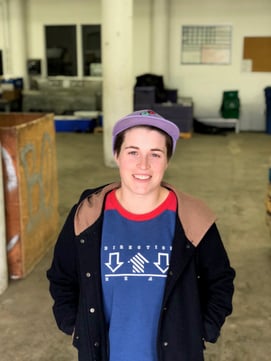 Name: Renae Cairns
Position: Purchasing Associate
Hometown: Ballston Spa, NY
Favorite fruit and/or vegetable: Hot Peppers
Tell us about yourself.
From working at a pizza shop in high school to tending the fields of an urban farm in Philly and now purchasing produce here at Boston Organics, food and agriculture have become two of my central passions. When I'm not working at Boston Organics or dreaming of ways to build a strong and equitable food system, you can find me trying out new recipes, kicking a soccer ball around or exploring the city.
What are your favorite foods to cook?
I make a lot of curries. I try to cook seasonally, so stuffed winter squash and roasted sweet potatoes stuffed with beans and sauteed greens in the winter. Often I'll go out to eat and try and replicate a dish at home. Recently I had a really great fatteh dish at Sarma in Somerville and I made that at home. It was awesome! And I'm always down to make homemade pizza. I used to work at a little pizza place in my hometown and I'm a total sucker for pineapples and jalepenos.
The way that photo is cropped makes you look really short. Are you really that short?
I'm 5'2".