Every week we put together a local box (called the Dogma Box) to help people eat food that's both organic AND local! The Dogma Box includes produce that has been sourced as close to Boston as possible, and this week we've got some delicious items to satisfy your locavore tastes.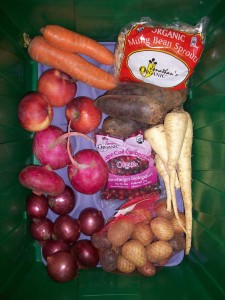 This week's Dogma Box includes:
What are Forono beets?
If you received the beet mix from Winter Moon Farm last week, you may have noticed that some of the beets were long and thin. These are Foronos! They are tender and juicy inside, and their shape means they slice into evenly sized pieces and will roast up perfectly. No need to peel 'em - all of the beets from Winter Moon Farm are very thin skinned varieties. We have a bunch of recipes for beets on our website, so feel free to check them out!
Cranberry update!
We got the word this week from Jonathan's Organic that their cranberry growers have packed up and frozen the remaining crop of the season, so this is the last week that we will have cranberries in the Dogma Box. This has been a great season for the cranberry growers on the Cape, and we're thankful that Jonathan's helps package and distribute these cranberries so that we can support local cranberry growers as much as possible. If you're feeling overloaded with cranberries, you can freeze them or dry them so that you can savor that fall New England flavor throughout the rest of the year!
To learn more about our place in the local food movement,
click here
. And as always, if you have any questions, comments, or recipes to share, please feel free to
contact us
at any time!
Happy eating and happy New Year from your friends at Boston Organics!