Hey there locavores! Check out what we've got in this week's Dogma Box, a box of produce that's organic and sourced as locally as possible.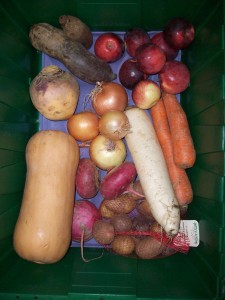 This week's Dogma Box includes:
It can take a little more effort to cook all these root veggies from week to week, but don't worry - we're here to help! Here are some recipes that you might want to try out with your Dogma Box this week:
Rutabaga and Greens Fritatta - A fritatta is always a great way to use a variety of veggies. This is a simple recipe that calls for rutabaga and cooked greens such as kale or collards. As always, you can adapt this recipe based on what you have on hand. Use your imagination!

Sausage and Turnip Gratin Pasta - Who said turnips had to be a side dish? You can take turnips to the next level in this hearty recipe (and use veggie sausage if meat isn't your thing!).

Herbed Winter Vegetable Roast - A great recipe to adapt with any root vegetables you have lying around! This recipe calls for butternut squash, carrots, parsnips, and onion.
Roasted Butternut Squash Ravioli with Sage Brown Butter Sauce - Sage and butternut squash are a match made in heaven, and this recipe really brings that out.
If you're ever looking for more recipes, check out the
Produce Info, Storage Tips and Recipes
section on our website. Here you can find nutritional information, preparation tips, and recipes for each produce item we offer. And as always, if you have any questions, comments, or recipes to share, please feel free to
contact us
at any time!
Happy eating from your friends at Boston Organics!