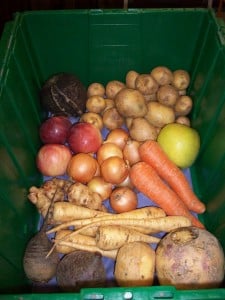 Hey there locavores! Check out what we've got in this week's Dogma Box, a box of produce that's organic and sourced as locally as possible.
This week's Dogma Box includes:
Here are some recipes that you might want to try out with your Dogma Box this week:
Mashed Potato, Rutabaga, & Parsnip Casserole w/ Caramelized Onion
This casserole features the hearty flavors and textures of potatoes, rutabaga, parsnips, and onions. With very few extra ingredients, it's easy to make and a great-tasting way to cook up those root veggies!
Cream of Sunchoke Soup
A flavorful use for your onions, sunchokes, and potatoes!
Braised Radishes
Braised black radishes make an excellent side dish.
Simple Cinnamon Stewed Apples
Stew down those Empire apples for a sweet side dish, dessert, or pancake topping!
If you're ever looking for more recipes, check out the Produce Info, Storage Tips and Recipes section on our website and browse recipes by item. Here you can find nutritional information, preparation tips, and recipes for each produce item we offer. And as always, if you have any questions, comments, or recipes to share, please feel free to contact us at any time!
Happy eating from your friends at Boston Organics!