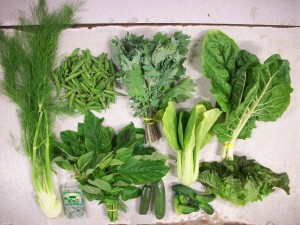 It is the last week of June. The warm weather and persistent rains have paid off. Look at this week's luscious local box! Your boxes are filled with every shade of green. You'll be happy eaters knowing how full of nutrients these tasty items are.
Fennel is a true gift of the season. This licorice-flavored bulb makes for elegant dishes. Slice it into thin strips or shred it with a mandolin for a more delicate bite. Try using fennel with tomatoes and seafood or put it in a cous cous salad. Use the long, vibrant fronds as garnish. If you have a yummy fennel recipe that you would like to share feel free to post it on our Facebook page or tweet it to us @BostonOrganics!
This week's Dogma Box includes:
Here are some recipes we recommend for this week's Dogma Box. These utilize many of the produce items that you're receiving!
Shrimp with Fennel, Dill, and Feta
What are you cooking this week? Feel free to
share
with us at any time! For more recipes, check out the
Produce Info, Storage Tips and Recipes
section on our website and browse recipes by item. Here you can find nutritional information, preparation tips, and recipes for each produce item we offer.Happy eating from your friends at Boston Organics!