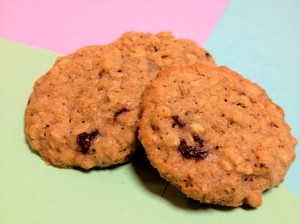 By Boston Organics intern, Sarah S.
It's not all carrots, kale and tomatoes here in Charlestown. Sometimes even produce ninjas like to get their sweet tooth on at the Boston Organics office. Today we're munching on homemade oatmeal chocolate chip cookies. I baked them almost entirely from Boston Organics ingredients. These chewy cookies have a rich taste from the rolled oats and dark chocolate. Using all-organic ingredients really seems to make a flavorful, high quality cookie.
Chewy Oatmeal-Chocolate Chip Cookies
Ingredients:
1 1/2 cups (7.5 oz) all-purpose flour
1/2 tsp. baking powder
1/4 tsp. nutmeg
1/2 tsp. salt
2 sticks (16 Tbs.) unsalted butter
1 cup (7 oz) brown sugar
2 large eggs
3 cups old-fashioned rolled oats
3/4 cup chocolate chips
Method:
1. Preheat oven to 350 degrees. Line two baking sheets with parchment paper.
2. Whisk together flour, baking powder, nutmeg and salt and set aside.
3. Beat butter until creamy. Add the sugars and beat another 3 minutes until lighter in color and fluffy. Beat in the eggs one at a time.
4. Stir the dry ingredients into the butter-sugar mixture. Stir in the oats and the chocolate chips.
5. Roll the dough into walnut-sized balls and place on the prepared baking sheets, spacing about 2 inches apart.
6. Bake until the cookie edges turn golden brown, 12-14 minutes. Let the cookies cool slightly on the baking sheet before transferring to a wire rack. Let cool at least 30 minutes before placing in air tight container. May be stored 2-3 days.
Yield: 3 dozen
Recipe adapted from The New Best Recipe from the editors of Cook's Illustrated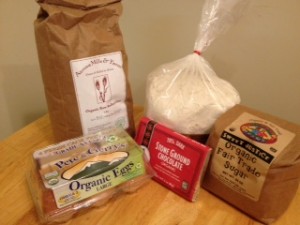 Organic flour, sugar, eggs, rolled oats and stone ground chocolate are all items that can be added to your produce box. To make your own baking kit, you can check out our baking add-ons here.
For more cookie recipes, cookie hopes and cookie dreams, check out my blog, Can You Cookie.