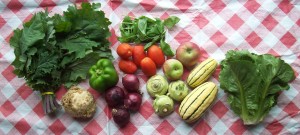 This is the last official week of summer and as we welcome in the cooler weather, we're finding beautiful autumn fruits and vegetables in the all-local box. Beginning this week, we have the first of the hard-rind squash (also known as winter squash): the Delicata Squash. Unlike many winter squash varieties, the delicious delicata does not need to be peeled and the skin is, in fact, edible. Other new additions to the box include kohlrabi and celery root. For those of you who haven't had kohlrabi before, it's in the cabbage family and tastes similar to broccoli stem but has a milder and sweeter flavor. To prepare kohlrabi, peel the outer layer and then dice into uniform chunks before cooking. A quick note about celery root! This funky veggie looks pretty bizarre (check out a picture here) but it makes up for it in flavor. Just peel it, chop it up, and use it in almost any recipe that calls for root vegetables. Also in the box, onions, bell peppers and kale. Roma tomatoes, apples and fresh basil too!
This week's Dogma Box includes:
The included recipes utilize many of the produce items that you're receiving in this week's Dogma Box. Our recipes are usually quite flexible and easily adaptable based on your pantry and your dietary needs. Feel free to get creative in the kitchen! If you come up with new ways to use some of our recipes and would like to share, post them on our Facebook or Tweet us.
Greek-Style Kohlrabi Pie with Feta and Dill
Mixed Bean and Winter Squash Stew with fresh Basil
What are you cooking this week? Feel free to share with us at any time! For more recipes, check out the Produce Info, Storage Tips and Recipes section on our website and browse recipes by item. Here you can find nutritional information, preparation tips, and recipes for each produce item we offer. Happy eating from your friends at Boston Organics!