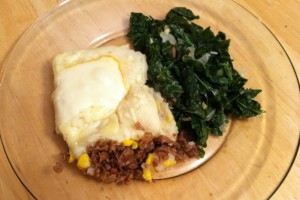 By Sarah S.
With the weather cooling off, we're craving hearty comfort foods here in the Boston Organics "Test Kitchen." As the winds bluster off the Charlestown waterfront and through Commerce Center, we're sitting in the office dreaming of Shepherd's Pie for tonight's Meatless Monday dinner.
Inspired by true stories, BO's very own Amy L. put her culinary skills to good use and recently made a vegetarian Shepherd's Pie. Using a package of Amy's veggie burgers (no relation to our Amy L.) and some of the veggies from her weekly box, Amy created this delicious dish. The recipe is included below.
If you don't have any veggie burgers handy, lentils or mushrooms are also excellent sources of protein to use. The recipe is flexible and you should feel free to play around, using different items from your box. Let us know what you come up with!
Vegetarian Shepherd's Pie with Garlic Collard Greens
For the Shepherd's Pie:
1 lb. potatoes, Yukon Gold or other, cut into even pieces and boiled until fork tender
Butter and milk
1 package of your favorite meat substitute, such as veggie burgers or meatless crumbles
1 large onion, finely diced
1/2 cup carrot finely diced
1 Tbsp. water
3/4 cup frozen corn kernels, thawed
1 teaspoon chopped fresh thyme or 1/2 teaspoon dried
1 Tbsp. Worchestershire sauce.
3 tablespoons all-purpose flour
1-2 cups vegetable broth
Oil as needed
For the Collard Greens:
1 bunch of collard greens, rinsed and coarsely chopped
2-3 garlic cloves, minced
1 small onion, diced
Salt and pepper, to taste
1 cup vegetable broth.
Shepherd's Pie Method:
Once the potatoes are cooked, drain them and mash with butter, milk salt and pepper. Should be creamy and smooth. Set aside.
Preheat the oven to 400 degrees. While the potatoes are cooking, prepare the filling. Cook the veggie burgers in a sauté pan as you would ground beef, breaking it into bite size pieces with a wooden spatula. Remove ground veggie burger from pan and set aside.
With a bit of oil, sauté onions, garlic and carrots and add water until beginning to soften. Add the ground veggie burger back into the pan with the vegetable mixture and turn down the heat. Add the corn, seasonings and flour to coat. Stir in the vegetable broth.
When some of the liquid has been absorbed, transfer the vegetable filling into an oven-safe pan or ramekin. Cover with the mashed potatoes and bake in oven for about 30-40 minutes, or until mashed potatoes form a nice crust.
Serves 4.
Collard Greens Method:
Saute the onions in a pan. Add the garlic and then the collard greens. Pour in the broth and cook down until most of the liquid has been absorbed. Season with salt and pepper to taste.
***
For more Meatless Monday recipe ideas, visit our blog and search 'meatless monday.' We always have our recipe database available for our customers to view. Read recipes by produce item on our website.