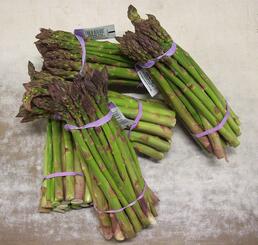 The beginning of spring can be a difficult time for locavores and farmers alike. After eating through several months of root crops, we're ready for something fresh and green! Luckily for us, the Northeast climate is perfect for growing asparagus, one of the first spring crops to become available.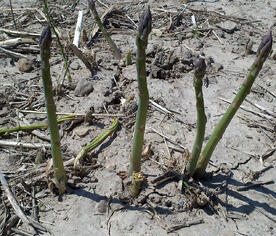 Asparagus is a pretty cool plant. While many plants grow from a stock, vine, or branch, asparagus spears grow individually right out of the ground. Asparagus plants can set roots and live up to 20 years in one spot, producing edible shoots throughout their entire lifespan. We wish they were in season longer, but they're only in season locally for the months of May and June each year.
Here at Boston Organics, we're getting our spring asparagus fill from our good friends Laura and Rick Pedersen of Pedersen Farms in Seneca Castle, NY. Pedersen Farms has been in business for 30 years, growing both organic and conventional crops ranging from asparagus to grain.
We have been delighted to work with Pedersen Farms over the past several years to secure the first asparagus crop. It isn't spring until we get a call from the Pedersens telling us the first asparagus harvest is ready!
Many of you will find this fresh asparagus in your box this week. You can also order it by the pound as an add-on for a limited time!
Once you've stocked up on these delicious shoots, check out our asparagus recipes and cooking tips.
We hope you enjoy the fresh flavors of spring!