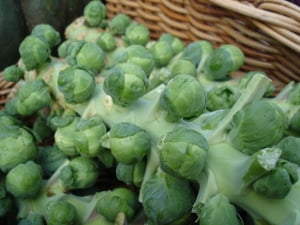 Thanksgiving is right around the corner, and as a company that's passionate about fresh, delicious food, you can imagine that we get pretty excited for this holiday! We will be closed on Thursday and Friday of Thanksgiving week, so we're compressing all of next week's deliveries into Monday, Tuesday, and Wednesday. Take a look at our Thanksgiving Delivery Schedule to see when you'll receive your Thanksgiving week delivery.
We've partnered with Kitchensurfing to offer our customers the chance to win a free meal-for-four from acclaimed chef Ryan Redmond. Enter now and you'll also get $100 off your first Kitchensurfing meal! Entries must be submitted by Noon on Wednesday, November 20th.

This week's produce includes local gems such as Hakurei turnips, Brussels sprouts, cranberries, potatoes, basil, carrots, and more. Check out the newsletter!