Wondering how to keep things fresh and tasty when carrots, potatoes, celeriac, turnips and other root vegetables abound? Over the next few weeks we're taking a spin around the globe, exploring the many ways winter's bounty of lower carbon footprint produce can be transformed into easy and flavorful dishes. Think Japanese Curry, Moroccan Tagine, Italian Frittata, French Galette and more! We're beginning today with a quick trip to the Land of the Rising Sun.
Recipe #1: Japanese Curry
The British brought curry to Japan from India in the late 1800s. While initially referred to as Western food, the Japanese soon reinvented curry with ingredients from their cuisine to make it more suitable to the Japanese palate - think flavors like mildly earthy turmeric, citrusy coriander, maple-y fenugreek, warm pepper, spicy cinnamon, nutty nutmeg, licorice-y fennel, herbal cardamom, hot cloves. Less spicy, darker, thicker from the addition of a roux and a little sweeter, from the sweeter spices and the addition of an apple, than traditional Indian curries Japanese Curry promises to be a crowd pleaser!
INGREDIENTS
2 Tbsp vegetable oil
One good sized onion, finely chopped
2" knob of ginger, peeled and finely grated
2 cloves of garlic minced
One apple, peeled, cored and grated
Enough root vegetables for your number of people. For this recipe we used: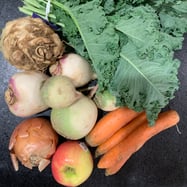 Four carrots

One celeriac

Three Turnips

Three Radishes (watermelon)

Other options include potatoes, sweet potatoes, rutabagas, parsnips, squash
Green vegetable like kale, chard or spinach (one bunch cleaned, trimmed and slivered) or 1 cup frozen peas or 1 cup green beans or 1-2 cups zucchini
3-4 cups vegetable stock
1 Tbsp soy sauce, or to taste
Japanese Spice Mixture,* approximately one block per person
Scallions for garnish
Fukujinzuke (pickled vegetables)
DIRECTIONS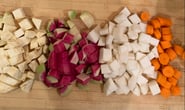 Peel and chop root vegetables into bite sized pieces. Prepare green vegetable.
Heat oil over medium high heat add onion and ginger and cook until fragrant, 2-3 minutes. Add garlic and cook about 30 seconds. Add apple and root vegetables, stir frying until they begin to soften. Add vegetable stock as needed to cover vegetables. Allow mixture to simmer until vegetables are just tender. Add roux, green vegetable and soy sauce to taste. Allow to simmer until sauce is thick and flavorful and vegetables are tender. Add more curry blocks to reach desired thickness and flavor.
Serve over rice or udon noodles, garnished with chopped scallion and hot sauce to taste.
Gild the lily by passing fukujinzuke at the table to add brightness and color.
*The easiest path to Japanese Curry is using roux curry blocks, readily found in most Asian grocery stores or online or, if you're feeling adventurous, make your own curry roux from scratch using one of the many easy online recipes.
For meat lovers: boneless, skinless chicken thighs work really well here. For 4-6 people cut chicken thighs into cubes and brown quickly in oil as first step. Remove chicken and proceed with recipe. Add chicken pieces back in when root vegetables are added.