RECIPE #4 STIR FRY
We love stir fry! It's the perfect answer to what's for dinner; a great way to clean out the fridge of all those odds and ends you've lost track off; makes great use of pantry staples and with a little attention to varied colors, piece size and saucing ingredients is colorful, flavorful and satisfying. Use this open-ended guide to make a stir fry where what-you've-got-on-hand meets up with let's-get-supper-on-the-table fast! And is sure to please!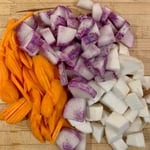 4 cups sturdy, long cooking vegetables like
asparagus
broccoli,
carrots
cauliflower
daikon radishes
green beans
turnips
rutabagas
stems from leafy greens like bok choy, chard, kale
1 cup stock, divided
4 cups tender, fast cooking vegetables like
bell peppers (any color)
celery, snow peas
sugar snap peas
summer squash or zucchini
Large bunch quick cooking vegetables/leafy greens like
bean sprouts
bok choy
cabbage, any kind
chard
kale
1 Tbsp grated ginger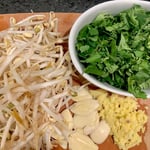 3 cloves garlic, minced
1 Tbsp vegetable oil (or more as needed)
Finishes: scallions, sliced on diagonal; chopped cilantro, chopped cashews or peanuts
Special considerations:
Mushrooms - saute first until they have released their liquid and it has evaporated
Tofu - cut into cubes and saute in oil first to create a golden crust on each surface of cube. To amp up the crust dust with corn starch prior to frying.
Chicken - cut into strip and saute first
Shrimp - add when sauce ingredients are added
Sauce Options:
| | | |
| --- | --- | --- |
| Spicy Chili Garlic Sauce | Oyster Sauce | Ginger Sauce |
| 1/2 cup stock | 1/2 cup stock | 1/2 cup stock |
| 1 Tbsp chili garlic sauce | 3 Tbsp oyster sauce | 1 Tbsp minced ginger |
| 2 Tbsp hoisin sauce or honey | 1 Tbsp toasted sesame oil | 1 Tbsp toasted sesame oil |
| 2 Tbsp soy sauce | 2 Tbsp soy sauce | 1 Tbsp sugar |
| 1 tsp corn starch | 1 tsp corn starch | 1 tsp corn starch |

Recipe
Long cooking vegetables: peel has needed and cut into 1/2" pieces or 1/4" thick slices.
Slow cooking vegetables: clean and slice into 1/4" thick slices
Leafy greens: clean, remove stems and chop into 1" pieces, slice leaves into 1/4" wide ribbons
Add 1 tsp vegetable oil to skillet or wok over high heat. When smoking add vegetables and allow to sit undisturbed for 2-3 minutes, until browned on one side. Add 1/2 cup stock and cover wok, allow to steam for 3-4 minutes until just tender. Remove cover and allow liquid to evaporate. Remove vegetables from pan.
While vegetables are steaming mix sauce ingredients together.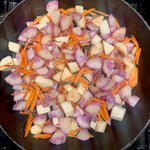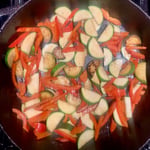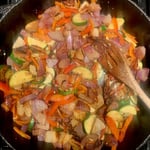 Add 1 tsp vegetable oil to now empty skillet/wok and add quick cooking vegetables. Saute, stirring occasionally until brown spots begin to form. Clear area in middle of pan, add 1 tsp vegetable oil and minced garlic and grated ginger. Saute in center of pan for about 30 seconds and then mix into vegetables.
Add sauce to vegetables in pan, add longer cooking vegetables and "special considerations". Bring to boil and allow sauce to thicken and everything to heat up, 2-3 minutes. Add quick cooking vegetables/leafy greens and toss all together, 1 minute.
Serve over rice or Chinese egg noodles garnish as desired with scallions, cilantro, chopped nuts.
4-6 servings