Apple season is just getting started here in New England. We will see some of the first fruits of the season this week with local McIntosh apples from Dwight Miller and Son Orchard in Dummerston, VT. As the autumn picks up, we will see an ever widening variety of apples. Study up on all the apple varieties you may find in your Boston Organics boxes, so you can make the most of this juicy, crispy and sweet time of year.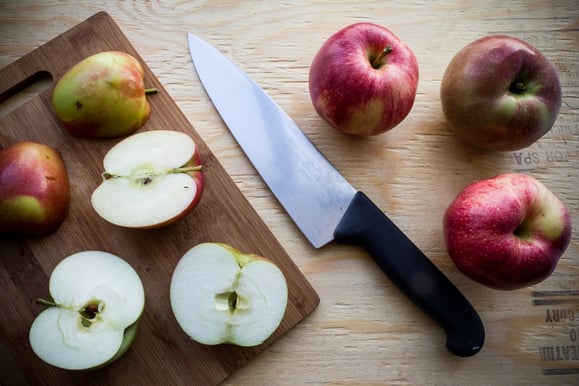 The many varieties of organic apples each come with their own delicious qualities and characteristics. New England apples range from red to green, crunchy to sweet, juicy to aromatic. Some are familiar favorites and some you've possibly never heard of, but each are fresh and tasty in their own unique way.
The Familiar Favorites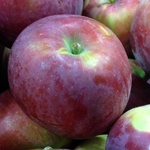 The McIntosh Apple...
Is probably the most familiar with its red and green hues coloring many of the New England apple orchards. It's juicy, slightly tart and one of the most aromatic apple varieties. It's crisp but not too firm. The McIntosh breaks down easily so it is a perfect choice for applesauce or cider.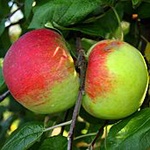 The Cortland Apple...
Is generally larger than the McIntosh. It's skin is darker red and painted with yellow streaks. This New England apple is sweeter than the McIntosh. It's super for salads because unlike other apples, the white flesh doesn't brown quickly. Try it out with some beets in this Spicy Beet and Apple Salad.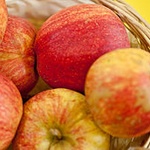 The Gala Apple...
Is another popular variety here in New England. It's exterior is bright red and its flavor is sweet. Don't confuse it with the Cortland apple as it can sometimes also have yellow streaks. The gala is a more popular variety and is typically smaller than the Cortland. Galas make a great partner to peanut or almond butter for a quick after school snack.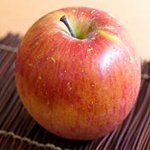 The Fuji Apple...
Shares features with the Cortland and Gala, but has a smooth, shiny skin. It also tends to be a bit larger. Fujis are crunchy and sweet and have a dense, delicious flesh. Fuji apples are unique in their ability to store for long periods. If properly refrigerated, a Fuji apple can have a shelf life of up to a full year.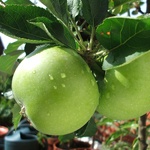 The Granny Smith Apple...
Is the one green apple on this list, but it's not only the bright skin that sets this fruit apart. Instead of the usual white beneath the firm skin, you'll find flesh that has a greenish hue. The Granny Smith apple is extremely versatile and can be used for snacking, baking or for adding a sweet, tart crunch to sandwiches.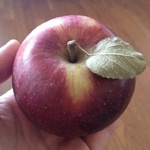 The Empire Apple...
Has a versatile sweet-tart flavor. It is medium-sized, dark red and firm, so it won't bruise easily. Using parentage from McIntosh and Delicious varieties, it was developed at Cornell in 1945. Stay tuned because scientists are still researching new breeds at the university to this day. The Empire is a good cooking apple and can be roasted, baked or even sautéed. The qualities of this apple make it perfect to use in coleslaw or chicken salad.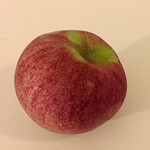 The Macoun Apple...
The Macoun apple is a combination of McIntosh and Jersey Black varieties. It gets its sweet flavor from the McIntosh. The dark red color and irregular shape come from the Jersey Black. The Macoun apple is super sweet and extra aromatic. It has a tender flesh making it an excellent organic apple for sauces and snacking. Get it while it lasts because it's a short season for the Macoun.
Varities You May Not Have Seen Yet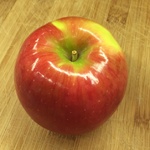 The RosaLynn Apple...
Is a fairly new variety, so you may have not had the pleasure of trying one yet. It was discovered in an orchard in Washington state in the late 90s, and right away the farmers knew they had something special. It has a crisp, clean mouthfeel and sweet and tangy flavor, with notes of cherry. It's another great slicing apple well-suited for salads because the flesh is slow to brown.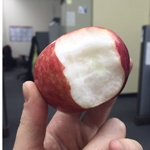 The Sister of Fortune Apple...
Is named for its relationship to the better-know Fortune apple. It is not the prettiest organic apple, but you can't read an apple by its peel. Beneath its dull red exterior, spotted skin and lopsided shape is a sweet, crisp flesh. The Sister of Fortune is a juicy, satisfying snack that shouldn't be missed.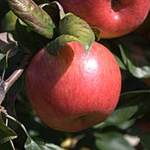 The Honeycrisp Apple...
Is becoming more familiar, but for those who have haven't tried one yet...wait no longer! This organic apple is aptly named—it is sweet, juicy and has a snap with every bite. Honeycrisp is the ideal hand apple, to be enjoyed in its purest form. It was developed at the University of Minnesota with the goal of creating a unique and pleasing flesh. Mission accomplished. It has a long shelf life if stored properly, but we doubt it'll last long once you get your hands on one!
It's easy to get into an apple-eating rut when you're stuck with the same old variety. But there are so many organic New England apples in Boston Organics boxes, the real challenge will be keeping up! Whether new or old, these varieties of organic apples are great for baking, pie-making or just slicing up for a snack.
Get them while they're fresh and have a happy fall!