While fewer hours of daylight and cooler days ahead might trigger apprehension about the approaching winter, there's some good news: it's squash season! Colorful, shapely and substantial squash are the workhorse of the winter kitchen lending themselves to soups, stews, curries, pastas, even pies and more!
Learn all about the squash varieties you may find in your Boston Organics boxes, so you can make the most of these versatile vehicles of flavor.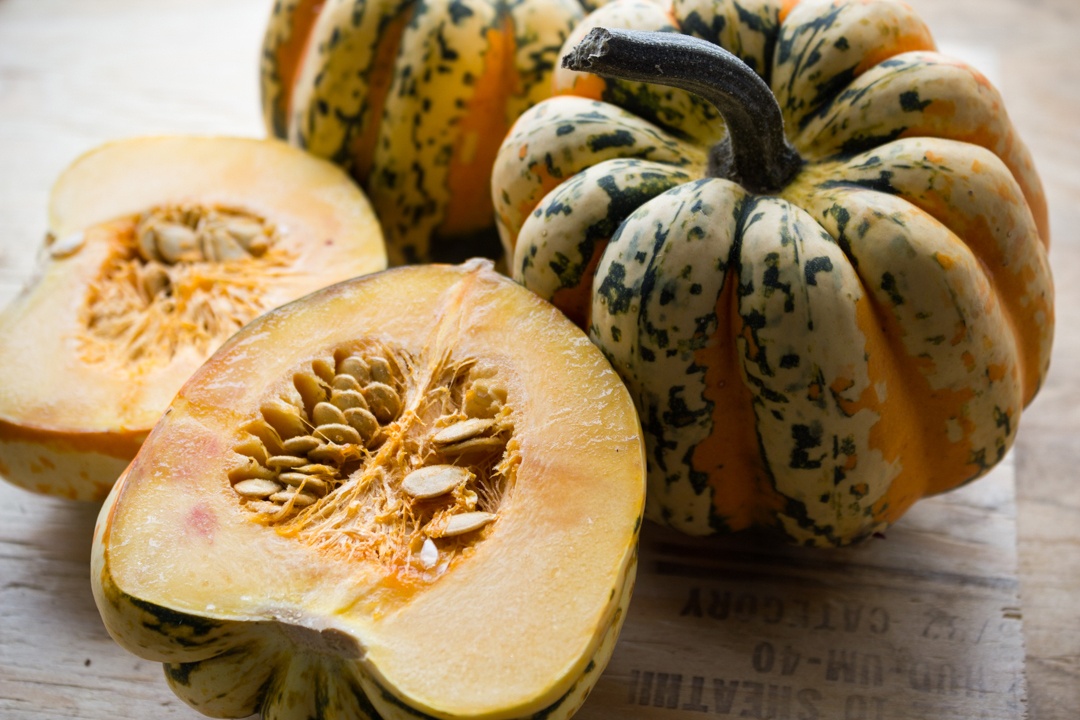 The many varieties of organic winter squash each come with their own delicious qualities and characteristics. Unlike summer squash, eaten young with soft edible skin, winter squash are grown longer and the skin is tough and hardy. Inside, however, presents a dense and sweet flesh. While the flavors vary, they tend to be on the sweeter and mild side. The flesh is edible, the seeds are edible and even some of the rinds are edible too! Winter squash are hardy and when stored in a cool place can last for weeks or even months at a time. See the guide below to become a winter squash expert.


Name That Squash



Butternut
Butternut is the recognizable, bell shaped organic squash that is well known for it's creamy soups. Fall colors are well represented with it's yellow skin and an orange flesh. For a winter squash the skin is thin and can be easily peeled making for a painless preparation. In addition to soup, there are plenty of great uses for this sweet, nutty flavored squash, even mac-n-cheese!
---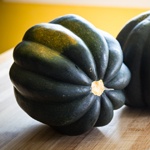 Acorn
This aptly named, acorn-shaped squash is one of the smaller varieties of winter gourds. The green skin is firm with distinctive ridges running down the side. Baking brings out the subtle nutty flavors of this yellow-orange flesh. Add brown sugar and butter to enhance the sweetness of this fall favorite.
---
Spaghetti
You'd never know by looking it, but as the name suggests, the flesh of this organic winter squash separates into spaghetti-like strands once cooked. It is a vibrant yellow inside and out! It is a great substitute for any pasta dish and goes great with or without sauce. Try this Greek-style spaghetti squash.
---
Carnival
A hybrid between sweet dumpling and acorn squash, carnival squash is the best of both worlds. It is one of the more colorful squashes on the outside with the familiar yellow-orange flesh on the inside. The sweet, mild flavor is comparable to that of a sweet potato. The thick skin assists in a natural resistance to disease (a big plus for organic farmers). Try this is a delicious and versatile squash baked with bacon and rosemary.

---
Red Kuri
While this plump orange squash may look like a traditional pumpkin, it's actually an organic red kuri squash. The yellow flesh of the red kuri squash has a chestnut-like flavor. This rich flavor makes it great for soups and sweet and savory dishes alike. Try roasting it and adding Cannellini beans and spinach.
---
Delicata
Delicata Squash has been showing up in Boston Organics boxes over the last few weeks! Though it's technically a hard-rind squash, like acorn or butternut squash, the organic delicata has edible skin and tender, creamy flesh that's very easy to prepare. You'll recognize this squash by its colorful and wrinkly skin. It has distinct dark green stripes on a yellow or cream colored skin and sweet, orange-yellow flesh. While pomegranate are still in season, try this delicata recipe with honey and pomegranate seeds.
---
Buttercup
This bulbous squash is one of the sweeter varieties of organic winter squash. Its dark green rind is inedible and the flesh, while dense, is creamy and delicious. It boasts a bright orange hue and after being baked or steamed is good enough to eat unseasoned! Tip: It is also great for pies, like this Build Me Up Buttercup Squash Pie.


---
Sweet Dumpling
Sweet dumpling squash looks like a small, round, version of Delicata with the same colorful, edible skin. The pale yellow flesh can be enjoyed straight out of the field. The flesh is smooth and starchy with a mild sweetness. Like most organic winter squashes, the organic dumpling squash is an excellent vehicle for stuffing with delectable herbs, nuts and pretty much any ingredient you can think of!

---
Pumpkin
Pumpkins are the squash that get all the glory this time of year and really do make an excellent canvas for the art of carving. Beyond their bright orange contribution to Halloween, they are indeed an edible and versatile squash. Pumpkins are great in bread, pies, lasagna, smoothies and soups! In addition to all those options, check out this winter squash pizza, great to share with friends and family while watching the leaves fall outside your window.
---

Kabocha

Kabocha squash look like short, squat pumpkins. They can have either dark green or red-orange flesh, and may have little green bumps (these are totally normal). The orange flesh has been described as "fluffy", almost like a sweet potato. Use Kabocha squash wherever you might use pumpkin. This recipe for Chorizo, Black Bean and Kabocha Squash Chili is especially satisfying.
Squash doesn't need to be relegated to a side dish at Thanksgiving, with the same old variety and same old recipe. There are so many organic squash varieties in Boston Organics boxes and so many way to prepare them all!
Get them while they're fresh and have a happy fall!