It's that time of the year: pumpkins are everywhere and we're all assiduously working on our Thanksgiving guest lists, menus and shopping lists. What's one to do with the ubiquitous vegetable of the season, if you're a pumpkin pie heretic?
Here are six great options:

Ingredients
FOR THE ROAST STUFFED PUMPKIN
1 x 7 lb pumpkin
1 onion (finely chopped)
1 Tbsp vegetable oil (or olive oil)
3 cloves garlic (2 minced, 1 left whole)
5 oz grams dried cranberries
1 tsp ground ginger
1 tsp ground allspice
1 good pinch of saffron strands
zest of one clementine or orange
14 oz basmati rice or quinoa
4 cups hot vegetable stock
salt and pepper to taste
FOR THE GINGERY TOMATO SAUCE:
1 onion (peeled and halved)
2 cloves garlic (peeled)
1 tsp ground ginger
1 x 1" piece of fresh root ginger (peeled)
1/2 oz butter
1 Tbsp olive oil
24 oz tomato puree (passata)
2 cups water
1 tsp granulated sugar
salt and pepper to taste
Recipe
Preheat oven to 390ºF. Slice lid off the top of the pumpkin, and remove the seeds and fibrous flesh from inside, keep the top to put back on later.
In a large saucepan (with lid), fry onion gently in oil until softened, then add 2 minced garlic cloves, cranberries, spices and clementine zest. Stir in rice, turning till it becomes glossy in the pan.
Pour in stock and let pan come to boil, then clamp on lid and turn the heat down to the lowest it will possibly go. Cook for 15 minutes.
Cut remaining clove of garlic in half and rub the inside of the pumpkin with the cut side of each half, then, using your fingers, smear some salt over the flesh inside as well.
Rice stuffing will be quite damp and not very fluffy at this stage, but check it for seasoning - adding more spice, salt or pepper if wanted - and then spoon it into the garlic-and salt-rubbed pumpkin cavity and tamp down well. Press the pumpkin lid back on top and squeeze it down as firmly as you can (it will sit up a bit proud of the top).
Stand pumpkin on a double layer of foil, wrapping the foil 2 inches up around the sides and scrunching it there, to keep the pumpkin out of direct contact with the water to be added..
Place the stuffed, partially wrapped pumpkin in a roasting tin and pour in freshly boiled water to a depth of 1 inch. Cook the pumpkin for about 2 hours by which time it should be tender when pierced.
Meanwhile, prepare the gingery tomato sauce.
Put onion, garlic, dried ginger and fresh ginger into a processor and blitz to a pulp.
Heat the butter and oil in a deep, wide pan, then add the onion-garlic mixture. Cook over a low heat for about 10 minutes, stirring occasionally so that it doesn't burn.
Add passata and water to the pan, and season with sugar, salt and pepper. Cook for 15 minutes, at a gentle simmer, then taste for seasoning before decanting to a warmed jug or gravy boat and taking to the table, for people to pour over their slices of stuffed pumpkin.
Take pumpkin out of roasting tin and let it sit for about 10 minutes before you slice it into segments like a cake.
Tested and Approved by Boston Organics (Chris McIntosh)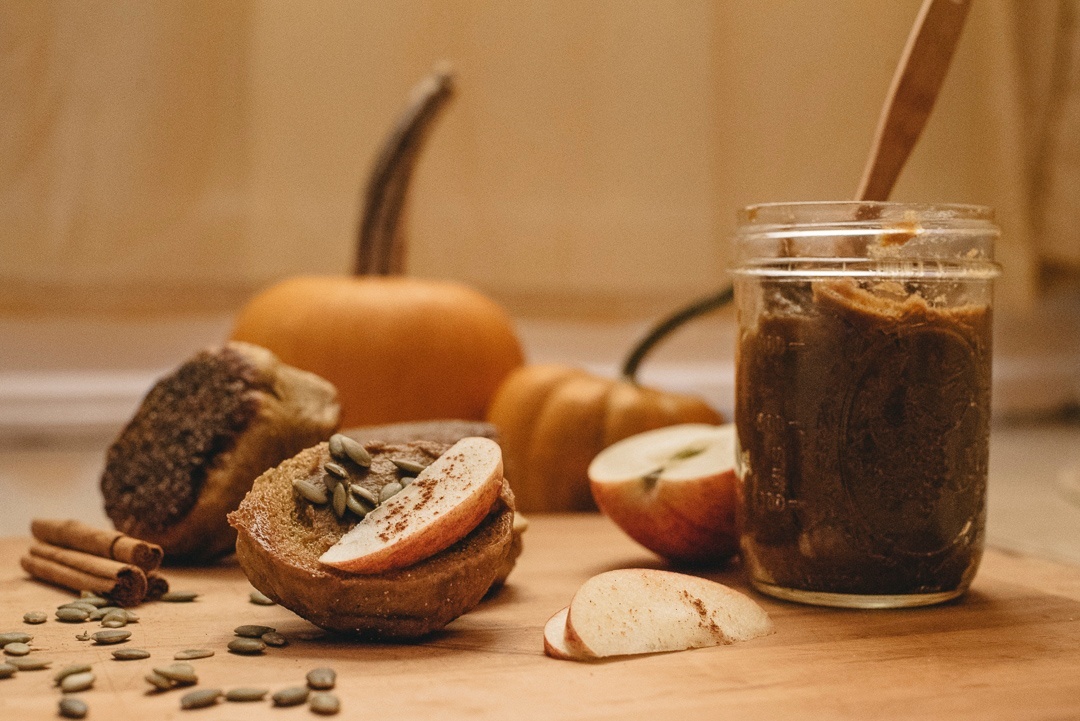 Ingredients
Recipe
Combine all the ingredients in a medium sized saucepan and cook on medium/high heat. Once boiling, reduce heat and let simmer for 30 minutes, stirring often. Cook until mixture is thickened.
Then allow the butter to chill before serving. Try it on a pumpkin spice english muffin!
Tested and Approved by Boston Organics (C. McIntosh)
Ingredients
1 lb cooked wide egg noodles (slightly undercook noodles by 2 minutes)
1 stick butter (4oz)
16 oz cream cheese
1 pint sour cream
1 15-oz can of pumpkin purée
8 extra-large or jumbo eggs
1 3/4 cups sugar
1 Tbsp pure vanilla extract
1 quart whole milk
1/2 cup molasses
1 tsp salt
1 tsp nutmeg
1/2 tsp ground cloves
1 tsp allspice
FOR TOPPING:
3/4 cup of chopped pecans
1 Tbsp cinnamon
2 Tbsp sugar
Recipe
In a mixing bowl whip together butter and cream cheese. Add sour cream, pumpkin purée and sugar, and mix again. Add eggs one at a time, beating a little after each one. Add milk, salt, molasses, nutmeg, ground cloves and allspice, and mix to incorporate the custard.
Place cooked noodles in a large mixing bowl. Pour custard over the noodles and mix well. Pour into large baking dish that has been generously buttered. Place dish in an even larger roasting pan and add water so that you create a water bath for the pudding. Add enough water so that it comes halfway up the sides of the pan of kugel.
Sprinkle with pecan and cinnamon topping and place in a 350ºF pre-heated oven for one hour uncovered. Remove from the oven and let rest a day before serving. Cut into pieces and warm up in a 350ºF oven for 15-20 minutes before serving.
Ingredients
1 1/4 cups vegetable broth
3/4 cup canned pumpkin
2 Tbsp butter
1 tsp honey
1 tsp balsamic vinegar
1/2 tsp grated fresh ginger
1/2 tsp salt
1/2 tsp freshly ground black pepper
1/2 cup orzo
Recipe
In a medium saucepan, combine the broth, pumpkin, butter, honey, balsamic vinegar, ginger, salt, and pepper. Bring to a boil over medium-heat, then add the orzo. Reduce the heat to low, and simmer, stirring frequently, until the orzo is tender, about 15 minutes. Serve immediately.
Ingredients
2 Tbsp olive oil
2 onions, chopped
2 lbs Swiss chard, tough stems removed, leaves washed well and chopped
2 1/4 tsp salt
1 tsp fresh-ground black pepper
1 tsp dried sage
1/2 tsp grated nutmeg
3 cups canned pumpkin puree (one 28-ounce can)
1 1/2 cups heavy cream
1 1/2 cups grated Parmesan
1/2 cup milk
9 no-boil lasagna noodles (about 6 ounces)
1 tbl butter
Recipe
In a large nonstick frying pan, heat oil over moderately low heat. Add onions and cook, stirring occasionally, until translucent, about 5 minutes. Increase heat to moderately high and add chard, 1 teaspoon salt, 1/2 teaspoon pepper, 1/2 teaspoon sage, and 1/4 teaspoon nutmeg. Cook, stirring, until chard is wilted and no liquid remains in the pan, 5 to 10 minutes.
Heat oven to 400°F. In medium bowl, mix together 2 cups of the pumpkin, 3/4 cup cream, 1/2 cup Parmesan, and the remaining 1 1/4 tsp salt, 1/2 tsp pepper, 1/2 tsp sage, and 1/4 tsp nutmeg.
Pour milk into an 8-by-12-inch baking dish. Top the milk with one third of the noodles, then spread half the pumpkin mixture over the noodles. Layer half the Swiss chard over the pumpkin and top with a second layer of noodles. Repeat with another layer of pumpkin, Swiss chard, and noodles. Combine the remaining 1 cup pumpkin and 3/4 cup cream. Spread mixture evenly over top of the lasagna, sprinkle with the remaining 1 cup of Parmesan, and dot with the butter. Cover with aluminum foil and bake for 20 minutes. Uncover and bake until golden, about 15 minutes more.
Ingredients
Recipe
Preheat oven to 450ºF. Cut pumpkin into 2-inch pieces. Combine pumpkin, onion, mushrooms, and garlic on a rimmed baking sheet. Add oil and 2 teaspoons salt; toss to coat, then spread in a single layer. Roast until pumpkin is tender when pierced with the tip of a sharp knife, about 30 minutes, rotating pan and tossing vegetables halfway through. Let cool, then remove skins.
Transfer vegetables to a medium saucepan; heat over medium. Pour in 2 cups stock; puree with an immersion blender until smooth. With the blender running, slowly add remaining 3 cups stock, and puree until smooth. Bring soup just to a simmer. Remove from heat, and season with salt and pepper. Cover to keep warm.