No one wants dry, boring stuffing on Thanksgiving. It takes up valuable real estate on your plate. Here are a half-dozen vegetarian stuffing recipes filled with flavor and sure to please.
Note: A few of these recipes have been updated to make them vegetarian (some that originally called for chicken stock now call for vegetable stock). You can view the original version of the recipes by clicking on the recipe names.

Ingredients
8 Tbsp unsalted butter (1 stick)
1/2 lb shallots, cut into 1/4-inch dice
6 stalks celery with leaves, cut into 1/4-inch dice
1 lb cubed bread
1/3 cup fresh parsley, chopped
1 tsp celery salt
1 1/2 tsp fresh thyme, chopped
1 Tbsp fresh sage, chopped
1 Tbsp fresh rosemary, chopped
1/4 tsp salt
1/4 tsp freshly ground black pepper
1 3/4 cups hot vegetable stock
Recipe
In a 12-inch, heavy skillet over medium heat, melt butter until hot but not smoking. Stir in shallots and celery, cover, and cook, stirring occasionally, until soft, 15 to 20 minutes.
Transfer to large bowl and add stuffing cubes, parsley, celery salt, sage, rosemary, thyme, salt and pepper. Stir in 1 1/4 cups hot stock.
Preheat oven to 350°F and butter a 3-quart casserole or 9- by 13-inch baking dish. Transfer stuffing to dish and drizzle with 1/2 cup hot stock. Cover with aluminum foil and bake until heated through, about 30 minutes. Uncover and bake until top is slightly crisp and golden, about 10 minutes longer. Serve immediately.
Ingredients
3 large acorn or delicata squash
4 slices day old multi-grain bread, crusts removed and cubed (about 3 cups or 5 oz.)
1 Tbsp unsalted butter
1 Tbsp extra-virgin olive oil
1 large onion, diced
1 small apple, peeled and diced
1 large shallot, minced
3/4 cup finely chopped celery
1 1/4 cup vegetable broth
1 egg
2 tsp chopped fresh sage
1 tsp chopped fresh thyme
1 tsp salt
1/2 tsp pepper
1/2 cup unsalted pepitas (pumpkin seeds), toasted
Recipe
Preheat oven to 375°F. Line a large baking sheet with parchment.
Cut delicate squash in half lengthwise and scoop out seeds and stringy pulp from center. Lay cut-side down on the prepared baking sheet and bake until just soft when poked, 35 to 40 minutes. [It will continue to cook in another step, so don't let it get too mushy] Remove from the oven and carefully turn cut side-up.
Meanwhile, spread bread cubes on another large baking sheet and toast in the oven until dry but not browned, 10 to 12 minutes. Let cool.
Meanwhile, melt butter with oil in large skillet over medium-high heat. Add onion, apple, shallot and celery and cook, stirring often, until the vegetables are tender, adding 1 to 2 Tbsp water to prevent from browning too quickly if necessary, 8 to 10 minutes total. Let cool slightly.
Whisk broth, egg, sage, thyme, salt and pepper in a large bowl. Add onion mixture and stir to combine. Stir in bread and pepitas. Mound stuffing into the cooked squash halves, about 2/3 cup stuffing each. Return to oven and roast until stuffing is hot all the way through and golden on top, about 20 to 25 minutes minutes.
Adapted from Healthy Seasonal Recipes, via Nosh On It
Ingredients
10 cups bread, cut into 1/2-inch cubes (firm white or wheat sandwich bread is best)
4 Tbsp olive oil, divided
2-3 cloves fresh garlic, minced
1 cup finely chopped onion
1 1/2 cups finely chopped celery
1/2 cup minced fresh parsley
1 tsp dried rubbed sage leaf
1 tsp dried thyme leaf
1/2 tsp salt
1/2 tsp black pepper
2-3 cups vegetable stock (or 3 cups water with 2 veggie bouillon cubes)
1 cup cranberries (optional)
1 pie pumpkin (3 lbs or so) (optional)
Recipe
Preheat oven to 400°F. Grease a large, shallow casserole dish with 1 tablespoon of oil.
Toast bread cubes on a large baking sheet in the oven until golden brown, 5-10 minutes. Set aside in a large bowl.
Turn oven down to 350°F.
Heat 2 Tbsp olive oil in a large skillet on medium heat. Sauté onions, garlic and celery until tender.
Using a rubber spatula, transfer the veggie mixture to the bowl of bread crumbs. Add cranberries (if using) parsley, sage, thyme, salt and pepper. Stir until until everything is well-mixed.
Add 2 cups vegetable stock, and stir until it is absorbed. Add more stock as needed so that the mixture is moist and clumping together, but not soggy. Transfer to casserole dish.
Drizzle 1 tablespoon of olive oil over the mixture, then bake covered for 25 minutes.
Uncover and bake another 10-15 minutes to form a crusty top.
Optional: Instead of using a casserole dish, get creative by baking your stuffing in hollowed-out pie pumpkins or other large gourds. All directions remain the same, except you should place your pumpkin on a baking sheet before baking in the oven to prevent it from making a mess or sticking as it softens, then bake for about 1 hour.
Tested and Approved by Boston Organics (Chris McIntosh)
Ingredients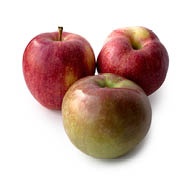 1 (1-lb) loaf day-old, unsliced bread, such as Pullman, French, or Italian
4 tbl unsalted butter (1/2 stick), plus more to coat the baking dish
2 medium yellow onions, medium dice
2 medium apples, such as Gala, Pink Lady, or Golden Delicious, medium dice
3 medium celery stalks, medium dice
8 sprigs fresh thyme, leaves removed and finely chopped
1 Tbsp finely chopped fresh sage leaves
1 1/2 cups vegetable broth
salt and freshly ground black pepper
Recipe
Heat the oven to 375°F and arrange rack in middle. Coat 13-by-9-inch baking dish with butter; set aside.
Meanwhile, cut bread into 3/4-inch cubes and place in large, heatproof bowl; set aside.
Melt measured butter in large frying pan over medium-high heat until foaming. Add onions and cook, stirring occasionally, until starting to brown, about 5 minutes. Add apples, celery, thyme, and sage and cook, stirring occasionally, until apples are tender and can be easily pierced with a knife, about 6 minutes.
Add 1 cup of broth and bring mixture to a simmer.
Turn off heat and add vegetable-apple mixture to reserved bread cubes. Season with two or three large pinches of salt and two large pinches of pepper, stir to evenly combine. If mixture seems too dry, add more stock or broth 1/4 cup at a time (but make sure it doesn't get mushy).
Transfer mixture to prepared baking dish and bake, uncovered, until top of stuffing just starts to get brown and crusty, about 30 to 40 minutes.
Ingredients
2 Tbsp butter
2 onions, chopped
6 large cornmeal muffins, cubed
handful fresh sage leaves, chopped
1 egg
1/4 cup heavy cream
1/4 cup vegetable stock
salt and freshly ground black pepper
Recipe
Preheat oven to 375°F.
Melt butter in medium skillet over medium heat. Add onions and cook, stirring, for about 10 minutes, or until soft and caramelized. Add sage and scrape into a large mixing bowl.
Add cornbread pieces, season well with salt and pepper, and toss well. In separate bowl, whisk together egg, cream, and stock, and pour over the cornbread.
Spoon into buttered baking dish and put in the oven along with turkey. Bake until hot and crusty on top, about 30 minutes.

Ingredients
1/2 cup wild rice
1/2 cup dried cranberries or fresh (you will need to cook the fresh cranberries before using them)
1 shallot, finely chopped
leaves from 3 sprigs rosemary, chopped
leaves from 1 sprig thyme
1/4 cup pecans, coarsely chopped
olive oil
salt and freshly ground black pepper
Recipe
Cook wild rice in salted water (or veggie broth if you have it). This should take 20 minutes in a pressure cooker at a high pressure, or about an hour on the stove. When the rice is done, set it aside.
Gently saute shallot, rosemary, thyme, and pecans in olive oil for about ten minutes. Towards the end, stir in the dried or fresh cooked cranberries, and finally, stir in the rice.
Danielle Sucher - gothamist.com
---
Did you try one of these recipes? How did it turn out? Share in the comments below!