Radishes are one of the hardiest vegetables known to man. Radishes grow quickly, suffer from relatively few pests or diseases, and you can harvest and eat almost the entire plant.
Perhaps best of all, radishes can be sourced locally year round in New England. Though some varieties are more closely associated with spring or summer, radishes are a solid storage crop and have become one of the best ways for locavores to add an extra kick of flavor to their winter meals.
There are an endless number of radish varieties to out there to try. Sometimes it seems like we have more radishes available at Boston Organics than J.P. Lick's has flavors of ice cream.
You'll soon find that each variety has a unique color and flavor profile, but most radishes can be used interchangeably in your favorite recipes for salads, soups and slaws.
Scroll down to learn more about the radishes our farmers are growing this year, or skip to the bottom of this post for our 5 favorite radish recipes.
Red Globe Radishes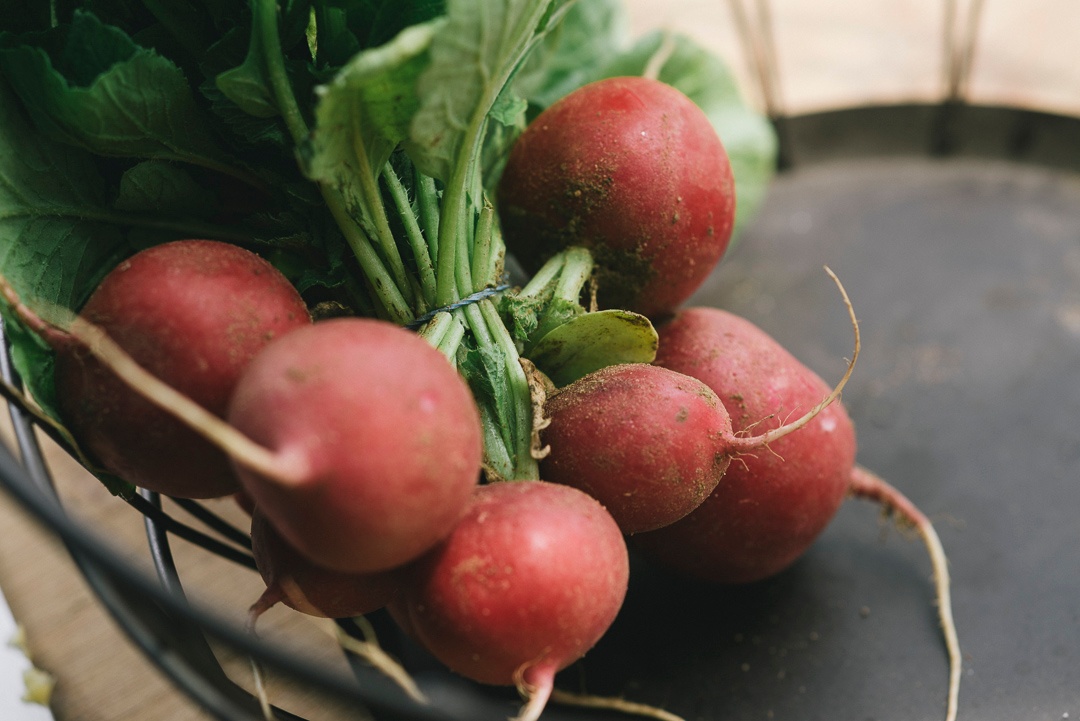 Though they are perhaps the most iconic looking radish, these little radishes are too often overlooked for the main course and used simply as garnish.
Indeed their mild peppery flavor is a nice addition to salads or crudités platters, but give these small bulbs a few minutes in the oven with some salt and olive oil and their sweeter flavors will really pop out.
Watermelon Radish
Watermelon radishes are a classic lesson in not judging a book by its cover. They have one of the most unassuming pale green exteriors, but slice open a watermelon radish and you'll discover an explosion of bright red and rich magenta tones.
Aptly named after the summer fruit for its similar coloring, watermelon radishes are one of our favorite winter veggies simply because of its ability to brighten up even the most basic meal and grey winter day.
Be warned that watermelon radishes tend to lose their color and flavors more easily than other varieties once cooked, so we suggest eating these radishes raw or try giving them a quick pickle (watch this very dramatic video).
Daikon Radish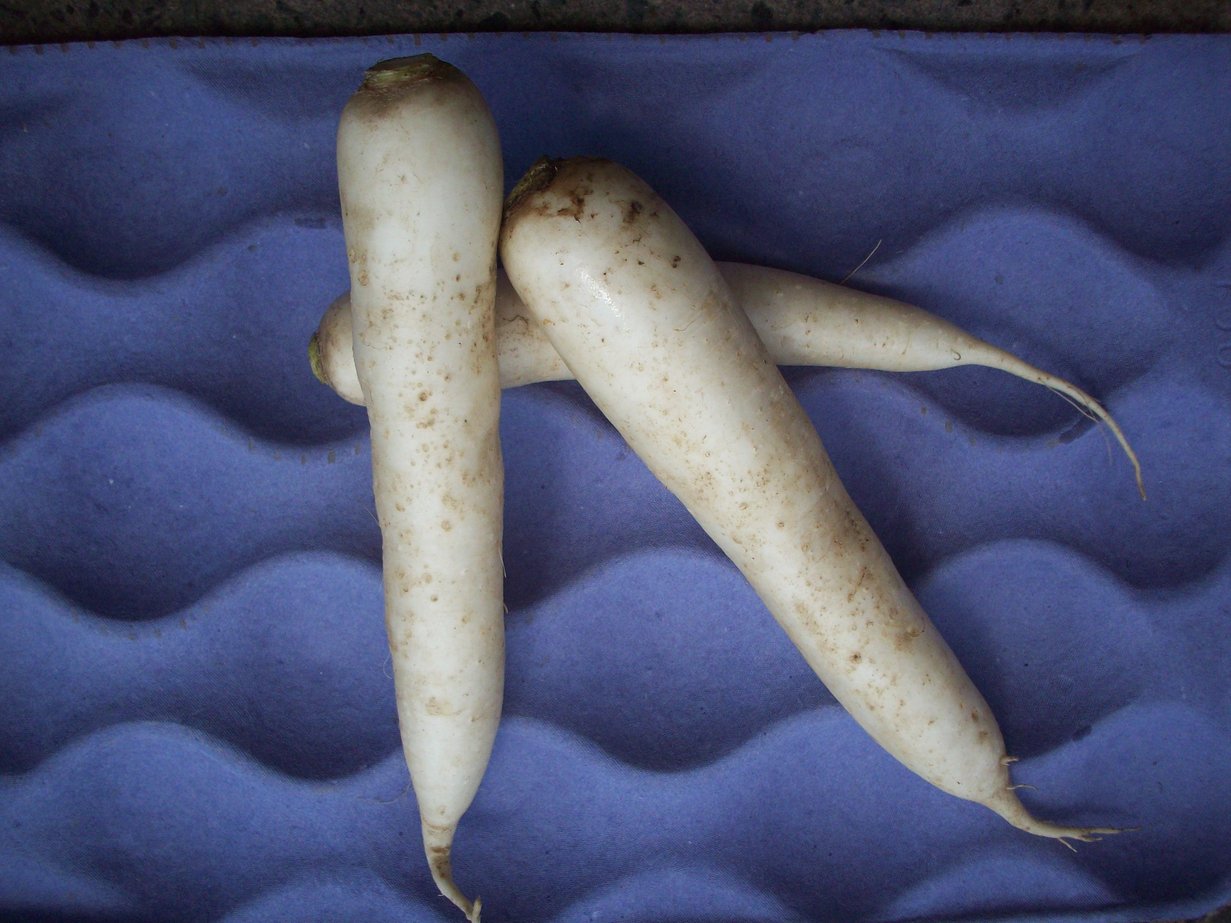 Though the daikon radish lacks the eye-catching colors of some of its radish brethren, the size and shape of these Asian radishes is impressive. The long narrow root is one of our most popular radishes because it's so easy to prepare and store.
Like a salami, simply slice a few medallions off the end of a daikon and save the rest for later. You may want to cover the exposed end with plastic wrap before storing the daikon in your fridge.
Black Radish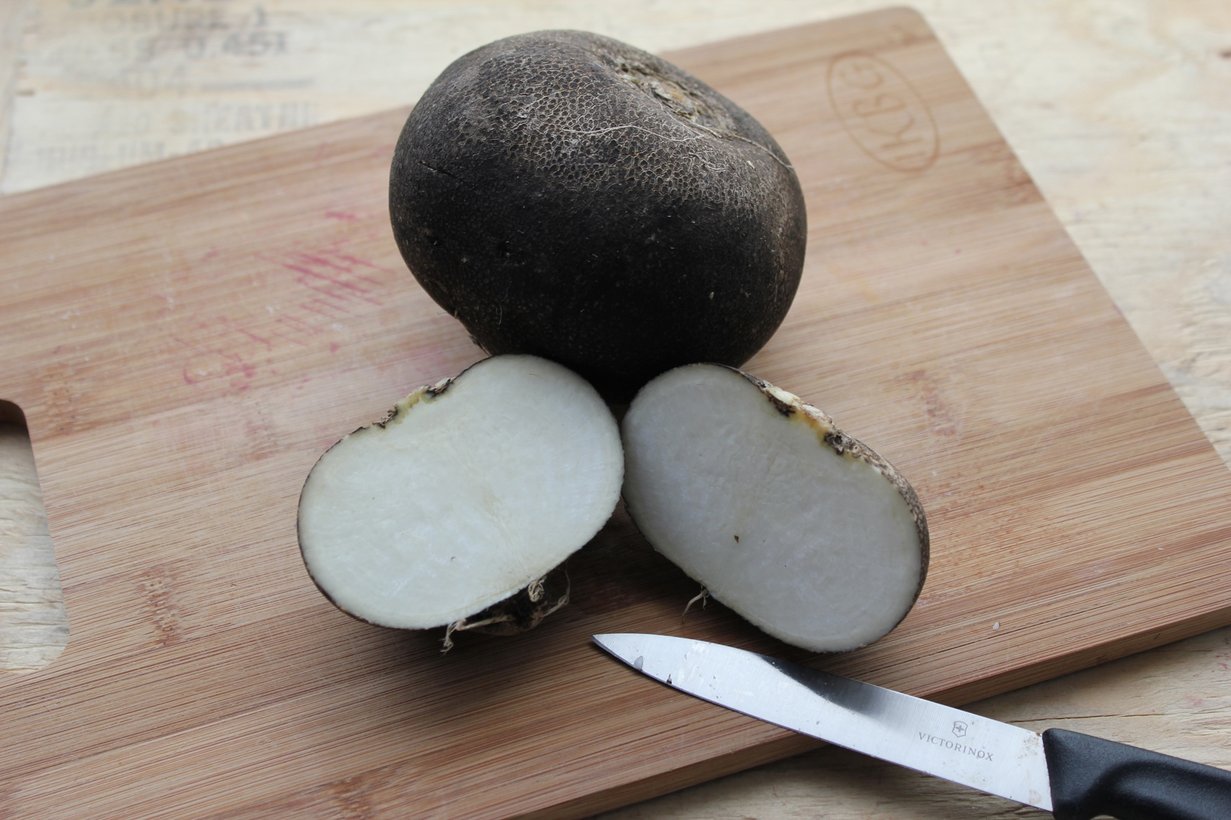 You know you've reached the dead of winter when even your fresh vegetables start to look frost bitten. But don't be fooled, beneath the black radish's harsh exterior is a pearly white flesh and one of New England's most flavorful locally grown organic root veggies.
Black radishes make great radish chips and they pair particularly well in salads with the juicy blood oranges that tend to ripen towards the end of winter.
Winter Moon's Assorted Radish Medley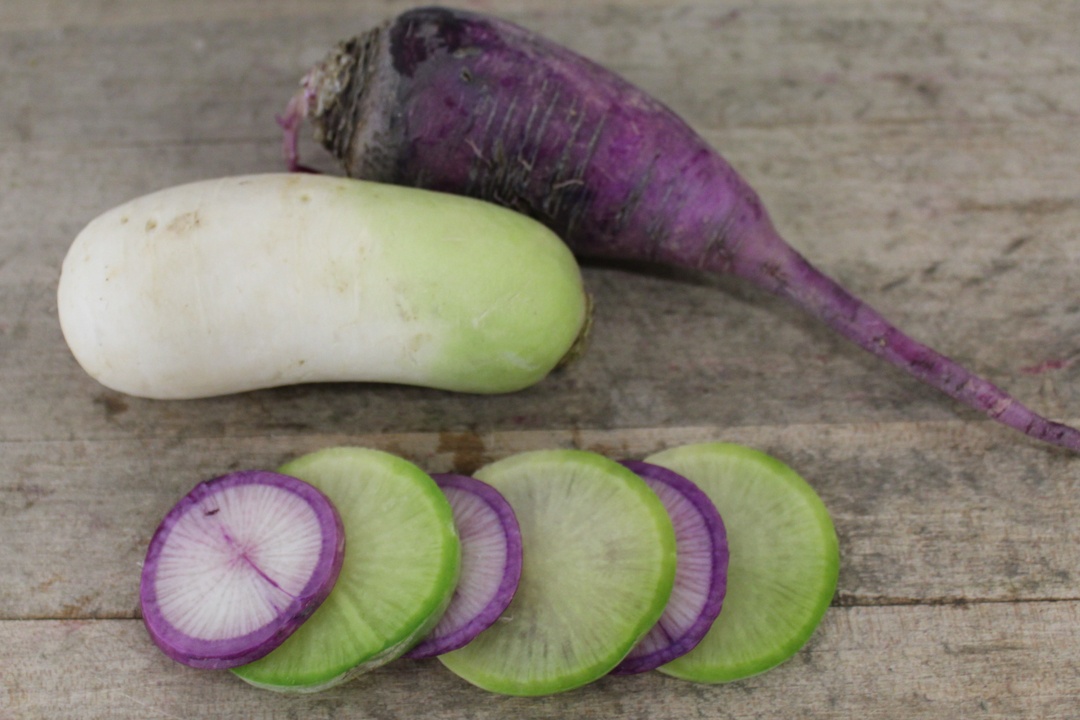 Michael Docter, owner of Winter Moon Farm in Hadley, tells us that the creation of his assorted radish medley was purely accidental. But after he saw how beautifully his green meat radishes paired with spicy red akane radishes, he decided to start planting and harvesting them together.
These vibrant winter roots are as spicy as they are colorful. Michael recommends thinly slicing these beauties onto a salad or shredding them into a dressing of rice vinegar, fresh lime juice, toasted sesame oil, and honey. But watch out, a little goes a long way!
Our 5 Most Delicious Radish Recipes
Honey Butter Roasted Carrots and Radishes
Watermelon Radish and Kale Wrap