Cranberry sauce is a Thanksgiving staple, but if you're serving sauce from a can you're missing out. Here are a handful of delicious variations on this classic Thanksgiving dish.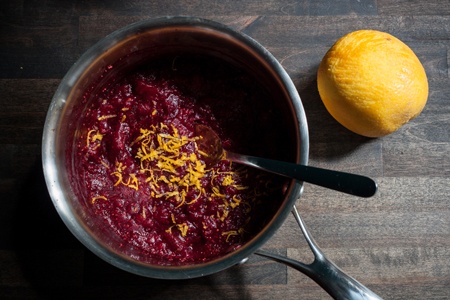 CRANBERRY SAUCE EXTRAORDINAIRE
Ingredients
1 cup water
1 cup white sugar
1 (12 ounce) package fresh cranberries
1 orange, peeled and pureed
1 apple - peeled, cored and diced
1 pear - peeled, cored and diced
1 cup chopped dried mixed fruit
1 cup chopped pecans
1/2 teaspoon salt
1 teaspoon ground cinnamon
1/2 teaspoon ground nutmeg
Recipe
In a medium saucepan, boil water and sugar until the sugar dissolves. Reduce the heat to simmer, and stir in cranberries, pureed orange, apple, pear, dried fruit, pecans, salt, cinnamon, and nutmeg. Cover, and simmer for 30 minutes, stirring occasionally, until the cranberries burst. Remove from heat, and let cool to room temperature.
CRANBERRY APPLESAUCE
Ingredients
2 cups fresh cranberries
½ teaspoon ground cinnamon
½ teaspoon ground nutmeg
¼ cup sugar
½ cup Manischewitz Concord Grape wine
4 large Granny Smith apples
Recipe
In a medium sauce pot, combine cranberries, spices, sugar, and Manischewitz. Bring mixture to a boil, then reduce heat and simmer 20 minutes.

Peel and core apples, then cut them into large chunks (approximately ½-inch cubes), and add to the cranberry mixture. Cover sauce and continue to simmer for 20 minutes, stirring occasionally. If sauce begins to stick, add water.
Remove from heat and cool to room temperature before serving.
Serves 10-12.
CRANBERRY chutney with apple and crystallized ginger
Ingredients
1 teaspoon vegetable oil
1 shallot, minced
2 teaspoons finely grated fresh ginger
1/2 teaspoon salt
2/3 cup water
1/4 cup cider vinegar
1 cup packed brown sugar
12 ounces (3 cups) cranberries
2 apples, peeled, cored, and cut into 1/4-inch pieces
1/3 cup minced crystallized ginger
Recipe
This recipe, inspired by Indian chutneys, creates a more complexly flavored sauce than old sweet-tart cranberry sauce made with back-of-the-bag instructions. Adding vinegar, aromatics, and spices to slow-cooked cranberries and fruit yield a jammy relish with kick and savor.
Heat oil in medium saucepan over medium heat until just shimmering. Add shallot, fresh ginger, and salt; cook, stirring occasionally, until shallot has softened, 1 to 2 minutes.

Add water, vinegar, and sugar. Increase heat to high and bring to simmer, stirring to dissolve sugar. Add 1½ cups cranberries and apples; return to simmer. Reduce heat to medium-low and simmer, stirring occasionally, until cranberries have almost completely broken down and mixture has thickened, about 15 minutes.

Add remaining 1½ cups cranberries and crystallized ginger; continue to simmer, stirring occasionally, until just beginning to burst, 5 to 7 minutes. Transfer to serving bowl and cool for at least 1 hour before serving. (Sauce can be refrigerated for up to 3 days.)
Adapted from America's Test Kitchen
CRANBERRY relish
Ingredients
1 lb fresh cranberries, washed and drained
1 large orange
1 lemon
1 can crushed pineapple, drained
½ c toasted pecans or walnuts (optional)
1 c organic sugar
Recipe
Wash the orange and lemon and cut up into small chunks (peel and all) and remove seeds. Pat dry the crushed pineapple with paper towels to remove any excess juice. Put cranberries, orange and lemon pieces, pineapple, and nuts (if using them) into food processor. Pulse for 10-15 seconds and stop to scrape the sides. Continue to pulse and scraping the sides until all ingredients are chopped finely. Be careful not to over-process or the texture will be too mushy, the relish should maintain a course texture.
Pour the relish into a medium sized mixing bowl and using a spoon stir in the sugar a ½ cup at a time. Since cranberries can vary in tartness, taste the relish after adding the first ½ cup of sugar to determine if the other half is needed. Continue to add sugar until desired sweetness is achieved. Chill in the refrigerator for 24 hours before serving.
Sent in by Clara C.
CRANBERRY SALSA
Ingredients
8 ounces fresh cranberries
1 jalapeno, seeded and coarsely chopped
1/4 cup brown sugar
1 Tablespoon olive oil
1 small bunch green onions, white and light green parts thinly sliced
Cilantro (optional)
Recipe
1. In the bowl of a food processor pulse the cranberries and jalapenos until uniformly chopped. Stop before it goes to mush.
2. Remove the cranberry mixture to a bowl and add the oil, onions, and brown sugar. Also add chopped cilantro, to taste, if you are using it. You can add a little more sugar if you think it needs it, but it sweetens as it sits in the refrigerator so don't go overboard. Stir it all together and cover it with plastic wrap.
3. Let the salsa remain in the refrigerator for at least one hour. Stir it well before serving with tortilla chips.
CRANBERRY sauce with a kick
Ingredients
1 cup sugar
1/2 cup water
Add to boiling water
1 bag cranberries
1/4 cup Triple Sec
1 tsp fresh squeezed lemon or orange juice
Recipe
Boil without stirring for 5 minutes, then boil for 5 more minutes.
Meg S, adapted from Jonathan's Organics recipe
PERSIMMON CRANBERRY SAUCE
Ingredients
3 1/2 cups fresh cranberries
1/4 cup dry red wine (I prefer Frey organic wine)
2 tablespoons water
5 whole cloves
1/2 cup light honey
3 ripe fuyu persimmons, peeled and cut into small 1/4-inch pieces
Recipe
Bring cranberries, wine, water, cloves, and honey to a simmer over medium-low heat in a large saucepan. Simmer, stirring occasionally for 10 minutes until most of the cranberries "pop" (the skins break open). Remove from the heat, remove the cloves and stir in the persimmons. Add more honey to taste, 2-3 tablespoons if needed. Pour into a glass bowl and serve at room temperature.