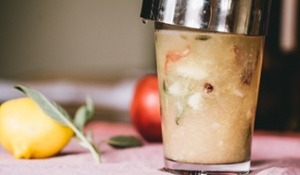 Ingredients
6 slices red plum, as ripe and juicy as possible
4 to 5 sage leaves, stems removed
1/4 to 1/2 oz simple syrup (more for a sweeter drink)
splash (about 1/8 ounce) fresh-squeezed lemon juice
2 oz rye whiskey
Recipe
1. Add the plums, sage, and simple syrup to the bottom of a shaker, and muddle (or smoosh vigorously with the back of a spoon) until the plums form a nice mush.
2. Fill the shaker with ice and add the lemon juice and whiskey. Shake and then double strain into a cocktail glass.
For non-alcoholic beverage, substitute in seltzer or unsweetened juice! Enjoy responsibly!
Whether mixology is your thing or you'd rather pop open a can or bottle and pour it over ice we've got flavored sparkling waters, shrubs, ciders and kombuchas that are ready-to-drink or the perfect base for your favorite concoction, or one of ours!