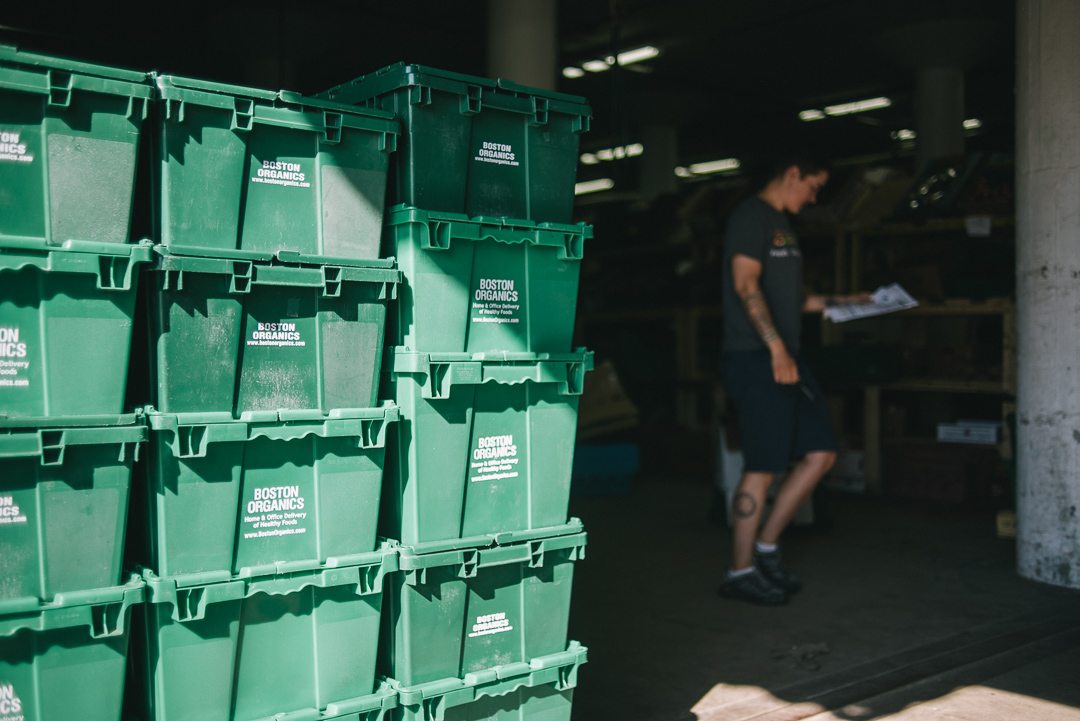 The health & safety of our customers and employees are our top priority. We continue to closely monitor the pandemic, and follow all guidelines and directives from the CDC, FDA, industry experts and state and local officials. Currently the FDA has found no evidence that the virus can be transmitted by food or food packaging - including imported foods into the United States.
Awareness and Preparation
As a food business, we have in place many practices that provide safe guards against viral transmission. However, we have increased messaging and reminders about hand washing, wearing PPE, avoiding touching eyes, nose, and mouth and maintaining physical distancing.
All employees (including our drivers) are instructed to stay at home if they have any flu like symptoms. In addition to Paid Time Off (PTO), most employees receive fully paid disability insurance as well as access to subsidized health insurance.
Physical Distancing and Personal Protective Equipment (PPE)
In the office and warehouse, we are maintaining the recommended 6 feet physical distance. All staff members have access to face masks, gloves, hand sanitizer and hand-washing stations. In the office, our desks have partial-wall dividers. Our warehouse is closed to the public – only staff and essential deliveries are allowed access. As always, our deliveries are contactless. If your delivery driver normally enters your office or residence, we request that you make alternative arrangements.
Common Areas and High Touch Surfaces
Frequently touched surfaces and objects are routinely disinfected throughout the day including but not limited to doorknobs, light switches, desks, phones, computer equipment, and GPS devices for our drivers. Our fleet of vans are regularly sanitized.
Sanitation of Green Delivery Bins and Produce
The bins that we distribute the produce in are sanitized prior to being utilized. We use a solution that is food safety approved and kills the virus that causes COVID-19.
At home or the office, we advise paying extra attention to best practices for handling produce. Raw fruits and vegetables should always be cleaned before eating, cutting, or cooking unless the package says the contents have been washed.
Office deliveries: We can help you adjust your order for your office's "new normal" with an adjusted fruit variety or single serve grocery add-on items. Please reach out to Service@Bostonorganics.com
---
Update 6/16
We are now accepting home delivery enrollments for all areas/days.
Office deliveries are also starting up again. We are currently delivering to offices Tuesday-Friday. We plan to resume Monday deliveries as well.
Thank you for your patience!
Update 6/6
As the State begins to open up and move into phase 2, we've opened up Tuesday without restrictions for the time being.
Now is a great time to sign up as the local season gets underway. There was a late start to the season due to a cool and rainy April, but the recent warm weather has accelerated the growth in the fields according to the farms we work with.
As always, safety of staff, customers and the public continues to be the priority. Thanks for your continued support.
Update 5/26
We are beginning to intermittently accept new signups now for most days. We are emailing those that have completed the waitlist form in batches based on when the form was completed. We will close down the enrollment form once enough customers have signed up.
We are busy increasing our staff and vehicle capacity sustainably and safely. Thank you for your patience and support.
Update 4/24
We are now accepting orders for households that live in our Tuesday delivery area (Unfortunately we have met capacity again. Join our waitlist for a notification when we open up sign ups again). We hope to continue to increase our capacity to serve more customers. We are looking to hire additional part time warehouse help as well as adding another driver.
Update 4/19
We also continue to experience supply chain challenges. We are beginning to hear murmurings that we may experience more disruptions. Many of the farms we work with in western Massachusetts rely on the H1B visa program for farm labor. Although unconfirmed, it is possible that the local growing season may be impacted if H1B workers are denied entry into the US.
As we work through these challenges, we hope to increase our capacity to serve more households to support social distancing efforts. All while keeping staff as safe as possible.
Thank you for your support. Be safe.
Jeff
Update 4/9
I was interviewed yesterday on WGBH - you can listen here about how we've been affected by the virus and some of the challenges we've been facing.
We are beginning to see some customers increase their orders of certain items (i.e. eggs and milk). We may have to impose limits on certain items as our drivers' vehicles are running out of van capacity.
If possible, please limit eggs to no more than two dozen, milk to two half gallons and some of the chips to just 1-2 bags per order.
Thanks and be safe!
Jeff
Update 4/4
We are closing down all signups for the time being - this includes preventing former customers from re-activating their accounts.
We will continue operating and delivering to existing customers.
We continue to assess the operations with focus on employee safety and general well-being.
We greatly appreciate everyone's support.
Thanks,
Jeff
Update 3/27
We have closed the signups for Tuesday deliveries. We may open it up again on Monday as we should have some capacity.
We will email you,if you have added your name to the wait list
Although slightly improved, we continue to encounter intermittent issues with our suppliers. For example, our main egg source is not sending in any orders into Boston next week. Fortunately with the advanced notice, we should have time to "scramble" and find another source.
Thanks for your patience and support.
Sincerely,
Jeff
Update: 3/24
We are getting a handle on the supply chain disruptions as well as our overall capacity to take on additional customers safely and without overextending ourselves or at the cost of existing customers. We are currently accepting customers living in our Tuesday delivery area for the time being, but will close it out at a certain point.
We are assessing other delivery days and will email those that have completed the waiting list form as areas open up.
Thanks for your patience and support.
Sincerely,
Jeff
Update: 3/19
We continue to deliver, but we are not accepting new signups right now.
We are collecting names and emails for a wait list. We hope to open the sign ups soon, but it will be mainly contingent on how quickly the food network rebounds and panic purchasing subsides.
We have also switched to delivering four days a week (Tuesday to Friday). By switching to a four day delivery schedule, our drivers will have less exposure and be able to get some well needed and deserved rest.
The health and well being of our staff has never been more important. Unlike many delivery services, we do not use independent contractors. Our drivers and warehouse staff are all employees - some earning as much as 120 hours of PTO. The majority have access to our subsidized health insurance plan and are covered by a fully paid disability insurance policy.
As you may guess, office deliveries (which were mainly done on Monday) have dropped significantly, The drop has been off-set by the increase in our home delivery business. Fortunately our staff will be able to stay busy and keep working - as safely as possible.
Although, bittersweet, it's been great to re-connect with so many former customers, We look forward to delivering to all of you. And thank you for trusting in us.
Sincerely,
Jeff
Update: 3/18
Unanticipated increase in orders + general hording = (hopefully) short term disruption to the supply chain
We have had a surge of new sign ups over the past several days that we had not fully anticipated. Thank you for the orders - although, we wish they were not prompted under such circumstances.
The increase has caught us off guard as well as many of our suppliers.The overall increase in demand has placed a great strain on the food supply chain - many of the suppliers are running short on products and more importantly on drivers and trucks to do the distribution. We hope that this will be resolved soon, but anticipate some disruption.
Shortages for certain items and last minute changes to box contents may be expected. If we are unable to deliver an item to you, we will do our best to give you as much forewarning as possible so you can make alternative arrangements.
We continue to closely monitor guidance from the CDC, FDA, federal, state and local authorities.
Our team is committed to delivering complete orders keeping safety a priority for both staff, customers and the general public.
Thank you for your support and patience.
Sincerely,
Jeff
-----------------------
Update: 3/14
We continue to follow CDC guidelines and have implemented additional sanitization protocols for staff in all phases of the operations (office, warehouse and delivery).
Unlike a grocery store, our products are not sitting on shelves accessible to the public and picked over. They are only handled by our employees.
All orders are picked by our staff and delivered in company owned vehicles. From receiving to delivering the groceries, on average only 1-2 people will be in contact with each item.
Please contact us if you have any questions.
Thank you for your support,
Jeff
Dear Boston Organics Customer:
At Boston Organics, the health and safety of our customers and employees is our top priority. Like most businesses, we are closely monitoring the coronavirus (COVID-19) outbreak.