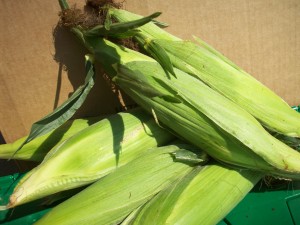 Organic corn season is upon us!
Starting next week we're getting the first local organic corn of the season!
We want to remind everyone that organic corn, though exquisite, is very susceptible to pests, in particular silkworms. Unlike conventional growers, organic corn growers can't spray their fields with chemical pesticides, which is a big invitation for the little buggers to eat away.
Though a nuisance, the silkworms are harmless and tend to show up just on the tip of the corn from time to time. They feed on the abundance of silk that collects at the top of the stalks. Here at the warehouse we do our best to check each stalk before it goes out - you may notice someone has shucked the top of your corn for you (that was us) - but even with our efforts some impacted corn may still make it to you.
Don't let these little guys ruin your summer! If you find an unwanted friend in your corn, simply cut or break off the top and compost it. The rest is delicious sweet corn gold, great for grilling, steaming, or boiling!
And now for a corny joke:
We hope you enjoy the local sweet corn season!