Our Local Dogma Box includes organic fruits and vegetables sourced as close to Boston as possible throughout the year. Similar to a CSA or farm share, this box is filled with the best organic produce from local and regional farms and brought right to your door each week.
Fall is here. The new season brings cooler weather and a whole different variety of local organic produce! This is the time for apple picking and pumpkin carving, for apple pies and roasted vegetables.
This week's Local Dogma Box includes a few summer hold-outs like Blue Ox Farm's cherry tomatoes, but Lakeside Organics and Dwight Miller Orchards are bringing us fall staples like organic McIntosh apples and delicious delicata squash.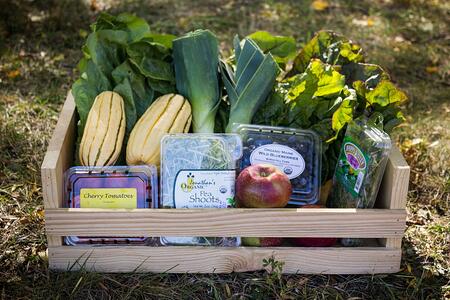 This week's Dogma Box contains:
If you haven't cooked with a delicata squash before, you're about to fall in love with this distinctively green-striped beauty. Unlike the more popular butternut squash, you don't need to bother peeling the rind off of a delicata squash. Simply remove the seeds, chop it up, drizzle it with olive oil and enjoy!
Try this recipe for Roasted Delicata Squash with Mushrooms and Thyme, and we bet you'll be singing delicata's praises in no time at all (actually, in 25-30 minutes + prep time).