A guest blog post from longtime Boston Organics Community Member, Julie Starr.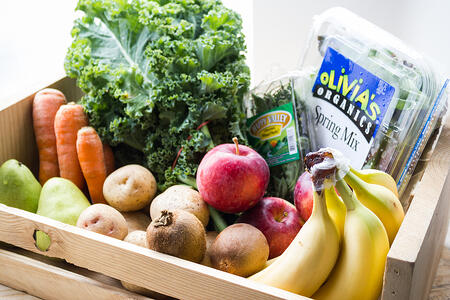 You want to do it...
Your friends are doing it...
People say it's easy...
People say that it makes you feel really good...
Yes, I'm talking about Boston Organics. This service will collect the most in-season, local and organic produce they can find and deliver it right to your door. You can even tell them which produce you would never want, and they will sub something else in.
So what prevents people from ordering it?
In truth, it can be intimidating. What if you don't know what the produce is? If you don't know what it is, how are you going to use it?
Here is my step-by-step guide on how to "think outside" of your Boston Organics box:
1. Read Their Newsletter
It will tell you what to expect in your upcoming box.
2. Get Excited
You are doing something good for yourself!
3. Lay It All Out
When the box arrives, take all of the produce and lay it out on the counter.
4. Use Google
Google the description of items you don't recognize. Find its name, ask a friend or email a super cool nutritionist (I may know of one).
5. Divide It Up
Separate your fruits and veggies into produce that is refrigerated and produce that doesn't have to be.
6. Think In Threes
Most of the vegetables can be categorized into three groups: leaves, root veggies, and everything else. Even if you don't know what the alien looking round veggie is with lots of roots (most likely celeriac), you can guess that it is not a leafy veg.
7. Got Root Veggies?
When in doubt, roast them, with some onions, garlic, olive oil, salt and pepper at 400 for an hour.
8. Got Greens?
Eat them raw or sauté them with olive or coconut oil, salt and pepper, then serve with a drizzle of lemon juice. Done.
9. Mystery Herbs?
Most can be used when roasting veggies or protein, added to salads or soups for flavor and fragrance.
10. Everything Else
What about all the other veggies like broccoli, cauliflower, Brussels sprouts? Roast, steam or blanche them to preserve both texture and flavor. And don't be afraid of spices—these often taste good with turmeric, chili pepper or a sprinkle of Parmesan or nutritional yeast. (One of my favorites!)
Next Steps
Now that we have a sense of how to use the vegetables, I know what the next questions usually are: But wait. Don't veggies go bad in a few days? What If I don't have time to eat them?
Whenever produce looks like it is on the way out, cook it and freeze it. Not only are you using up the produce, but you'll be doing yourself a favor by having some prep work done for a future meal.
Most importantly, relax about it. Once you realize how fun it is to try new foods, you will be so excited to not only take your produce outside of the box, but to think outside of the box in regards to your diet and wellness.
---

Julie has been a Boston Organics customer since 2006.
For more than a decade, Julie Starr, MS, CNS, has worked with a diverse group of healthcare practitioners to create tailored nutrition programs, as well as individualized programs for private clients. Julie is the owner of STARR YOGA , a yoga, nutrition and barre studio in Roslindale. She holds a MS in Nutrition from Boston University.
Outside of work, you can find the self-proclaimed "foodie" frolicking around town with her spirited five year old.
Visit Julie's website at StarrYogaBoston.com or email her at JSWNutrition@gmail.com.