Food, lovingly prepared by hand figures prominently in Michelle Zauner's memoir, Crying in H Mart. From shopping with her mother to learning from her and other Korean relatives how to prepare traditional dishes to nurturing her mother through serious illness Zauner illustrates the power of food to nourish and sustain us. So recently, when suffering through a bad bout of the flu, I found myself drawn to her images of congee, the traditional rice porridge that makes appearances in many Asian cuisines, and is often served to people who are ill.
I perused the internet and my cookbooks; inventoried my pantry where I found rice, peanuts, black vinegar, sesame oil, garlic, chile oil and Smithereen Farm Organic Mermaiden Broth; checked the fridge for eggs, ginger, soy sauce and sriracha; took stock of this week's bounty from my Boston Organics box - three good sized carrots, three watermelon radishes and crimini mushrooms (an On-Sale add-on item) and came up with a plan. Lucky for me, I also had scallions, cilantro and bok choy on hand.
Recipe #3: Congee (Rice Porridge)
INGREDIENTS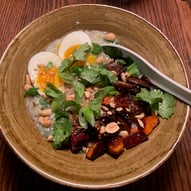 1 cup medium or short grain rice
10 cups of liquid in total including 2 cups vegetable or chicken stock
3 cloves of garlic smashed
Thumb sized piece of ginger peeled
Other seasonings as desired: turmeric can be a nice addition and add color
TOPPINGS
Vegetables: Pretty much any vegetable will do! Because the finished product is soup-like pay attention to piece-size - smaller is generally better. Vegetables can be roasted ahead of time or added towards the end of the rice cooking time. Softer vegetable like squash and sweet potatoes, if not roasted, will fall apart imparting an earthy flavor and warm hue to your congee. Frozen corn is super easy and excellent! Any type of thinly slivered cabbage would be welcome.
Protein: eggs; leftover, fish, chicken, pork or shrimp would all do well here.
Toppings: soy sauce, black vinegar, sriracha, chile oil, chopped peanuts, scallions, fried shallots, sesame seeds, furikake, cilantro, lime wedges, sesame oil, fish sauce
DIRECTIONS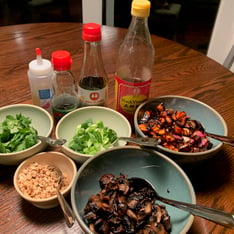 I started with 1 cup of Jasmine rice because that's the type I had and it is traditionally used in Congee, though pretty much any medium or long grain rice will do. To the rice I added 10 cups of water, 2 tsp of Mermaiden Broth powder, three cloves of smashed garlic and a thumb sized piece of peeled ginger and brought the mixture to a boil. The contents will seem impossibly thin and insubstantial at this point but trust me here, it all comes together in the end. Once the mixture came to a boil I turned it down to simmer, put a lid on, inserting a wooden spoon between the lid and the pot to allow the steam to vent and let it simmer, stirring occasionally for about 75 minutes.
Meanwhile I prepped my vegetables. I opted to peel, finely chop and roast my root vegetables as we love the concentrated flavor that roasting imparts. And of course roasting mushroom amps up the umami boost. The bok choy I washed and thinly sliced opting to add it at the end of the rice cooking.
While the rice was cooking and the vegetables were roasting I cooked some eggs until jammy (about 7 minutes). Other protein options include leftover shredded chicken or pork, cubed tofu, shrimp.
Once the rice resembled porridge - barely distinguishable grains in a glutinous backdrop I fished out the garlic and ginger then added the bok choy stems allowing them to soften in the hot liquid, then added the diced bok choy greens.
I set up a garnish-your-own-bowl bar with roasted root vegetables, roasted mushrooms, slivered scallions, chopped cilantro, chopped peanuts, black vinegar, soy sauce, sriracha, sesame oil, chile oil and let everyone have at it!