9/28-10/2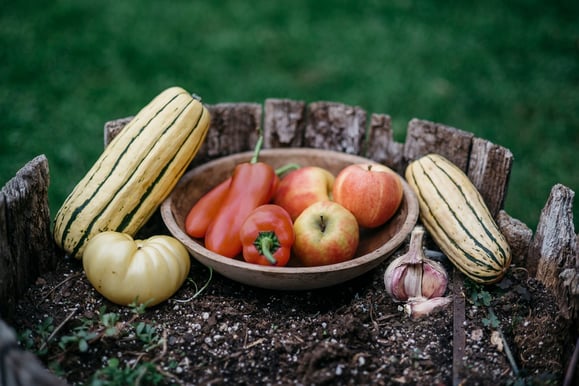 There's an enthralling assortment of produce harvesting across the Northeast right now, and our goal is to bring as much as possible to the Boston Organics Community. From fixtures like squash and tomatoes to exotic offerings like Romanesco and kiwi berries, it's safe to say this week's deliveries are going to be packed with the flavors and colors of the season.
At Boston Organics, our number-one priority is to ensure the produce and groceries we deliver are organic. Organic certification is the best way to guarantee food is grown without synthetic pesticides and that it's free from genetic modification (non-GMO). We also try to source as closely to home as possible in order to support our local growers, ensure food is fresh and to reduce the amount of fuel that is required for transporting goods long distances. Being able to offer local and organic groceries is what we call the Gold Standard.
Much of the produce we source this time of year is both organic and local, so you'll find an impressive mix of Gold Standard favorites across most box types. Our popular Standard 2/3 Veggie Box will have heirloom tomatoes, collard greens and leeks, all from Atlas Farm. Our Small Box customers will receive sweet snacking peppers, green leaf lettuce and garlic, sourced from farms in Massachusetts and Vermont.
But it's the all-local Dogma Box recipients who are going to win the locavore lottery this week with some truly fun ingredients, like specialty cauliflower and kiwi berries.
Customers receiving cauliflower will receive either a head of Romanesco or cheddar cauliflower. Romanesco (sometimes called Romesco Broccoli or Roman Cauliflower) is a gorgeous, psychedelic-looking vegetable with a spiraling bud pattern, similar in flavor to cauliflower but with a nuttier, earthier taste. Cheddar cauliflower is an orange cauliflower variety that gets its hue from an abundance of beta carotene. (Fun fact: cheddar cauliflower has 25% more vitamin A than the common white variety.) If it's your first time giving specialty cauliflower a try, we recommend our local recipe of the week for Roasted Romanesco. The recipe works beautifully with cheddar cauliflower, too, and properly showcases the unique aesthetic of these fun vegetables.
Dogma Box customers can also expect to receive Pennsylvania-sourced kiwi berries. These exotic little fruits are perfect miniatures of full-sized kiwi fruits, except they are smaller in stature and have a smooth, thin peel that allows you to pop them in your mouth as-is. (No fuss, no muss.)
---
This Week's Local Produce
Arugula
Baby Bok Choy | Bunched Beets
Cabbage | Chard | Collard
Delicata Squash
Fennel | Green Leaf Lettuce
Hakurei Turnips | Heirloom Tomatoes
Kale | Leeks | Potatoes
Sweet Snacking Peppers Cauliflower
Garlic
Sage


Apples Onions
Brussels Sprouts
FIngerling Potatoes
Roma Tomatoes
Sweet Red Italian Peppers
All of the fruits and vegetables we deliver are grown without synthetic pesticides and are USDA certified organic. Interested in receiving produce that's both organic and locally sourced all year round? Check out our Local Dogma Box.
Similar to a CSA or farm share, our Local Dogma Box is filled with the best organic produce from local and regional farms and brought right to your door each week. It's the easiest way to eat like a locavore!