10/5-10/9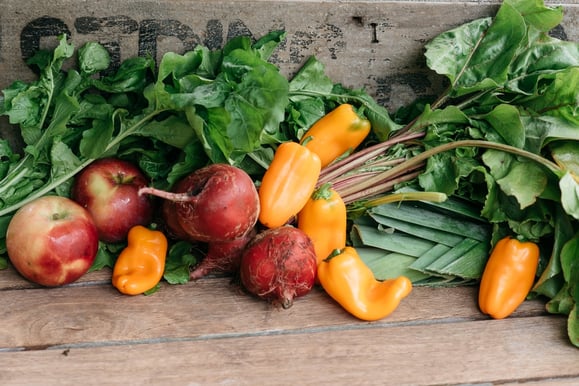 The staples of summer like blueberries and corn have passed, but we are delivering a cornucopia of locally grown fruits and vegetables this week like sweet peppers from Blue Ox Farm and aromatic rosemary from Happy Valley Organics. The weather may be getting cool, but we're just getting warmed up.
Atlas Farm is in the height of harvestime, which means they are bringing us more than a dozen different vegetable varieties this week. In fact, about two-thirds of the produce in the all-local Dogma Box is coming direct from their fields in South Deerfield, MA.
Dogma Box customers aren't the only ones feeling the local love this week—most of Boston Organics Community members will receive some of Atlas Farm's harvest this week. Lots of folks will see organic arugula make an appearance this week. We love this spicy, nutty green for its unique flavor and versatility. You can use it in salads, pastas and quiches, but we recommend keeping it simple in this melty, satisfying recipe for Grilled Cheese with Apples and Arugula, which as the name suggests, features another of our favorite fall ingredients!
Also hailing from Atlas Farm are bunched beets. We recommend pairing them with Happy Valley Organics' rosemary found in most deliveries this week in this recipe for Rosemary Roasted Beets. And since this week's beets are "bunched," make sure to trim off the greens and saute them up separately with some oil and garlic for a beet-iful meal!
---
This Week's Local Produce
Arugula
Baby Bok Choy | Bunched Beets
Dandelion Greens | Celeriac
Fennel | Green Leaf Lettuce
Hakurei Turnips | Kale
Leeks | Poblanos | Potatoes
Sweet Snacking Peppers
Garlic
Rosemary


Apples Onions
Sweet Peppers
Cabbage
Sweet Dumpling Squash
All of the fruits and vegetables we deliver are grown without synthetic pesticides and are USDA certified organic. Interested in receiving produce that's both organic and locally sourced all year round? Check out our Local Dogma Box.
Similar to a CSA or farm share, our Local Dogma Box is filled with the best organic produce from local and regional farms and brought right to your door each week. It's the easiest way to eat like a locavore!