10/12-10/16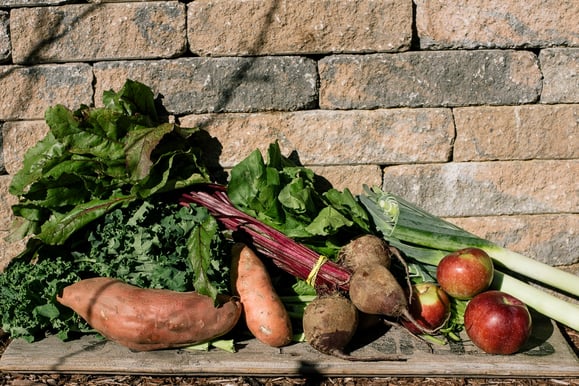 The Boston Organics Dogma Box is an ever-changing variety of fruits and vegetables sourced from our region, specifically curated with locavores in mind. But what some folks don't realize is how much of the organic produce delivered in our other boxes comes from local growers, as well.
One such item is broccoli, which in addition to appearing in the Dogma Box, will be included in our Medium and Large All-Veggie Boxes this week. In recent weeks, we've seen broccoli's close, but rarer, relative spigarello pop up in boxes, but this week it's all about the beloved flower—and we couldn't be happier. The broccoli we're getting in this week is fresh-picked from the Kitchen Garden in Sunderland, MA. (This is the same family-owned farm that produces the unbelievably tasty small-batch organic Sriracha that we currently offer as an add-on.)
If you haven't checked out our blog post suggesting 4 New Ways to Eat Broccoli, we recommend taking a few minutes to inspire your imagination. Or if you're in a rush, keep this recipe in mind for Simple Sesame Broccoli. It boasts big flavor, but takes no time to whip up—the perfect week-night side dish.
While broccoli is a favorite flower, the delicate oyster mushroom is certainly a favorite fungus. Italian and Forest Medley oyster mushrooms are back from Mousam Valley, a small operation located in Springvale, ME. The farm's mission is to sustainably grow healthy mushrooms by minimizing waste and energy usage. We love what they're doing almost as much as we love their mushies.

If you're looking for a creative recipe to showcase these beautiful fungi, try this clever recipe for Oyster Mushroom Rockefeller. A fun play on the seafood dish, this recipe is perfect for cocktail parties or if you just want to feel fancy while hanging in your sweats. Either way, you'll love this vegetarian twist on the New Orleans classic.
---
This Week's Local Produce
Arugula | Baby Bok Choy
Bunched Beets | Butternut Squash
Cabbage | Celeriac | Green Leaf Lettuce
Kale | Leeks |Potatoes
Sweet Potatoes | Turnips
Garlic
Parsnips
Broccoli
Romanesco
Mixed Herbs


Apples Onions
Tomatoes
Bell Peppers | Carrots | Fennel
Apples
Oyster Mushrooms
All of the fruits and vegetables we deliver are grown without synthetic pesticides and are USDA certified organic. Interested in receiving produce that's both organic and locally sourced all year round? Check out our Local Dogma Box.
Similar to a CSA or farm share, our Local Dogma Box is filled with the best organic produce from local and regional farms and brought right to your door each week. It's the easiest way to eat like a locavore!