A few lucky boxes this week are experiencing a gorgeous grab-and-go fruit, the organic Pink Pearl Apple. These beauts are an heirloom variety that will surprise your senses.
These unique apples are pale yellow with a pearly hue on the outside, and envelop a secret, bright pink interior.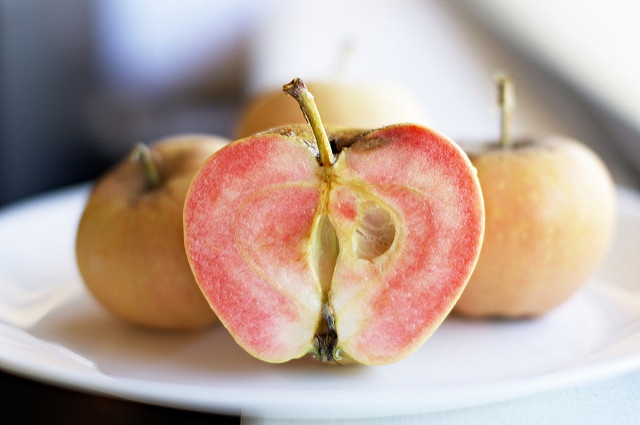 Coming to us from Washington state, these sweet and tart apples typically grow from late summer to early fall. Sometimes misshapen like an heirloom tomato might be, they are always colorful and delicious.
Native to California, the Pink Pearl is one of the great legacies of Albert Etter. Etter cross pollinated apple varieties to create new ones, hybrids, with distinct characteristics. In 1944, Etter's Pink Pearl was well received by apple eaters everywhere.
Believed to be the descendent of the Calville Blanc variety, the tapered apple's lightly colored skin has a pearly glow as the deep, pink color of the flesh shows through. This now rare variety is great for snacking as well as baking and will have your co-workers and classmates pink with envy!