People often ask us, "Is Boston Organics a CSA?"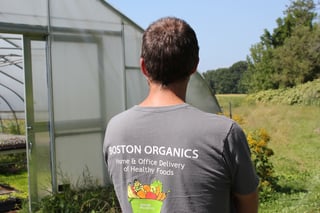 CSAs (Community Supported Agriculture) are awesome, but we are not a CSA (at least not in the traditional sense). An important benefit of subscribing to a CSA is that it helps to support local agriculture by working directly with a farm. As a Boston Organics customer you may not have a one on one connection with a single local farm - but you are helping to support and sustain a network of local farms, local suppliers, and local businesses!
I wanted to share my thoughts about some of the other differences when comparing a Boston Organics membership to that of a CSA experience…
One vs. Many Farms
In the strictest sense, a CSA is one farm that is directly selling its produce to its members; nobody is coming in between the grower and the consumer.
On the other hand, Boston Organics works with numerous farms including many in Massachusetts and the North East. We act as an aggregator to deliver a diverse and fresh mix of produce directly to the customer. We offer many different box sizes and mixes of fruit and vegetables to meet your specific needs.
Since we are not limited to sourcing from just one farm, Boston Organics is able to offer a broad selection of produce. We operate year round and supplement our boxes with items from further afield to offer enough diversity to meet your needs. We also offer a wide variety of certified organic fruit, such as fair-trade bananas, that are virtually impossible to produce in New England due to the difficult growing conditions. For the true diehards who only want to eat organic produce sourced as close to Boston as possible, we offer the Dogma Box.
Connection
Nothing beats going directly to the source. In fact many CSAs allow members to work at the farm and pick their own produce. At the same time, there is a big need for people and organizations like Boston Organics to help connect growers and consumers via the wholesale channel. Red Tomato founder, Michael Rozyne, explains in his blog that only 5% of the food is sold directly from the producer to the end-user. This highlights both the opportunity for more direct marketing, but it also indicates that there will probably always be a need for intermediaries. As an intermediary, we try our best to communicate what is going on out in the fields with our customers via our weekly newsletters and website.
Risk/Payment/Commitment
Most CSAs require payment up front for the entire season, or at least a portion of it. Paying in advance allows farms to have access to cash while avoiding costly loans to pay for seeds, labor, and other necessary expenditures at the beginning of the season - long before any revenues are generated.
By paying in advance, the CSA member is taking on some risk. If there is crop failure for whatever reason, the contents of the members' shares will be reduced. From most accounts though, the opposite seems to be the case; there is usually too much food! With crazy New England weather, there are usually some set-backs, but a good CSA always seems to find a way to balance things out by the end of the season.
As a Boston Organics customer, we guarantee that you will get a consistent value. In an effort to minimize the risk to our growers, we work closely with them over the winter and spring. During the pre-season we provide informal commitments and estimates to help with their planning. In some cases we have pre-paid for crops months in advance. It is a win-win situation as it not only provides the grower with a reliable source of revenue, it also provides Boston Organics with a reliable source of local produce!
As a Boston Organics customer you pay as you go - you do not need to pre-pay or commit for any period of time. There is no initiation/membership/application fee. If you go on vacation or need to skip a delivery, just let us know 48 hours ahead of time and you won't be charged. If you are not satisfied with the service, you can discontinue it!
From all of us at Boston Organics including our network of growers and suppliers, we thank you for your support.