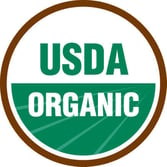 We believe that organic certification is the best way to ensure that you are getting the healthiest and safest food that is good for you and the planet. However as a recent article in the New York Times points out, the organic standards are under attack of being watered down primarily by corporations trying to gain access to this rapidly growing market (see chart below). As consumers, we must be engaged in protecting the National Organic Program and its strict standards.
The following organizations make it easy to stay informed and take action...
We agree that the organic certification program is not perfect, but we believe it is the best that is out there. On our website, we have additional resources and information that explain why we think the organic standard is still the best and most relevant certification when it comes to agricultural products. We have looked into other certification programs, but have not found any to be as objective and transparent as the national organic certification program.
A recent article from the Huffington Post also provides a good, general overview of organic certification. It does a good job of expressing why we think organic certification is important and relevant.
Boston Organics' Produce and Grocery Items
The source of our produce can vary from week to week. We do our best to offer as much consistency, variety and reliability as possible throughout the year. Because of our relatively small volume, we must work with wholesalers that source from growers outside of New England. Especially in those instances when we are unable to meet the grower or visit the farm, organic certification ensures that the produce has met an objective set of standards before it reaches our warehouse.
Fresh certified organic produce is our main offering, but we also offer additional staple & specialty grocery items as add-ons. As more certified organic processed foods become available (see chart below), it is becoming more important to know where these foods are coming from, and what ingredients are being used. We do our best to ensure that our offerings are minimally processed as well as organic.
The majority of our add-on grocery products come directly from small, independently-owned companies in Massachusetts and the New England area. In many cases, we are able to meet the producers and learn first-hand how the product is made and the health & environmental impacts of its production.
One of our goals at Boston Organics is to connect Boston area residents with healthy, sustainably-grown foods while providing transparency about the food chain. We strongly believe that the organic certification program is a vital component that allows us to do this in a meaningful way.
If you have any thoughts or comments, we would love to hear from you!