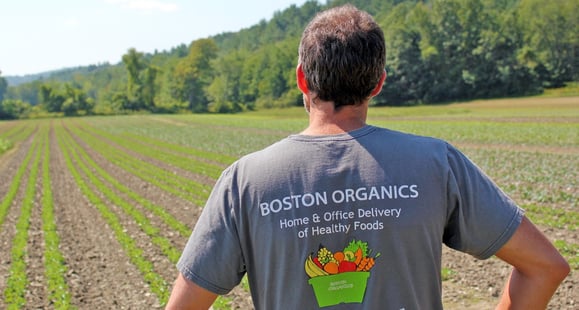 How much do you know about where your food comes from?
If you buy and eat organic food, you already know quite a lot. For instance, you know that it was grown without synthetic fertilizers and wasn't sprayed with harmful chemical pesticides. You also know that there are no genetically modified organisms (GMOs) in your food and that the animals that produced your eggs and milk weren't fed antibiotics. Instead, they were raised in safe, humane conditions.
But as a busy Boston resident, you don't have time to visit all of the organic farms that grow your food. That's part of our job, to increase transparency in the supply chain and make sure that the food you eat comes from truly sustainable sources.
We work with a vast network of organic farms, and every season we like to go visit a few of them. Not only does this help maintain our strong working relationship with these organic farmers, it also gives us an opportunity to ask questions and learn new things about modern organic farming practices.
Earlier this summer, we sent a few members of the Boston Organics Crew to southern Vermont and central Massachusetts to visit some of our local farm partners there. Here's a short recap from each visit.
Dwight Miller and Son Orchards
(East Dummerston, VT)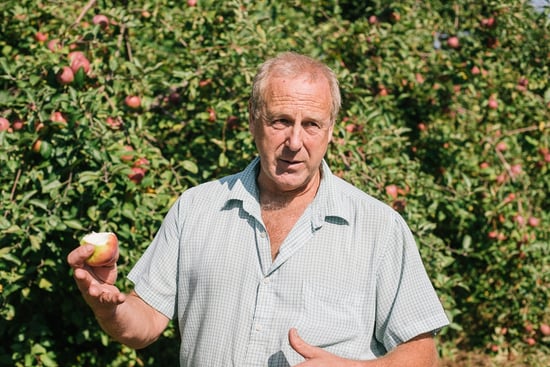 Read (pronounced Reed) Miller, owner of Dwight Miller and Son Orchards
Background: It wouldn't surprise us if Read Miller knew more about growing organic apples than Johnny Appleseed himself. In fact, Read's ancestors started farming in southern Vermont about the same time that the fabled American horticulturalist started sowing the seeds along the American frontier.
Dwight Miller and Son Orchards is an extraordinary farm with a rich and vibrant back story. You can read a short summary history of the eighth-generation family farm in one of our previous posts, Trees of Knowledge.
What we saw: A LOT of apple trees. While Dwight Miller Orchards does allow locals to come "pick-your-own" in typical New England fashion, this farm is not exactly the quaint backyard orchard you might expect.
Read is pretty much the premier organic apple grower in New England. We've been working with him for nearly a decade and probably still haven't tasted all of the varieties of apples that he grows. In addition to crowd favorites like the Honeycrisp, Gala and McIntosh, Read also grows Golden Delicious, Cortland, Mutsu and a countless number of special heirloom varieties.
Ask him how many apple trees he and his family have in their orchards and he gives the classic, witty response of a seasoned New England farmer, "too many to look after and not enough to make a profit."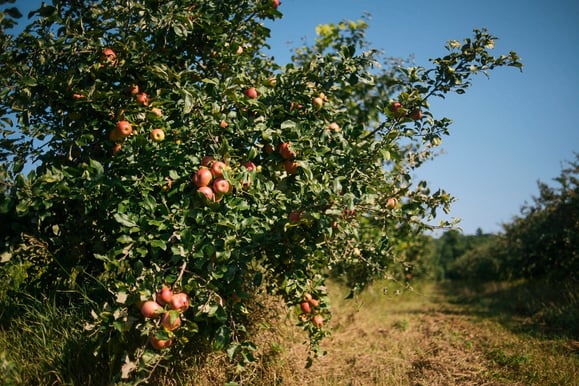 What we learned: It's extremely difficult to grow apples organically in New England. The naturally moist air and soil are ideal conditions for things like apple scab, powdery mildew, codling moths and apple maggots—any of which can spread rapidly through an orchard and destroy an entire year's worth of work virtually overnight.
Keeping apple trees healthy and productive without relying on harmful synthetic herbicides and pesticides requires a keen understanding of chemistry and biology. But most of all, it requires experience—something the Miller family fortunately isn't short on.
Read developed his own proprietary organic system to protect his trees. He's now teaching the intricacies of it to his son, but as he walked with us down a particular row of trees he stoically warned us that "timing is everything."
On the right side, the fruit was beautiful, colorful and nearly spotless. It took everything we had to not stop and pick a bushel right then and there.
But on the other side of the row, the apples were covered in scabs. Both sides had been sprayed with his homemade organic cocktail, but the left side was sprayed the following day, only about 10 hours later. In that short window, the apple scab set in and even Read's special organic mixture was not enough to protect the fruit.
What to expect: We were fortunate to share in Read's bountiful, organic blueberry harvest earlier this summer. This fall, Dwight Miller Orchard is expecting what Read enthusiastically calls, "a money crop year." He's hoping to harvest 2,000 cases of fresh McIntosh apples alone—some of which the Boston Organics Community will get to enjoy.
But while we get excited for a bountiful harvest, we remember how just last year a wet spring propagated so many pests and diseases that Dwight Miller Orchard was barely able to financially stay above water.
In fact, if it weren't for his maple trees and apple cider press, Read says he would have given up long ago. He's been growing apples ever since he was a little boy, but he's never successfully put two good years together back to back.
Read Miller is one of the most accomplished and respected organic apple growers in the world, but it's the daily challenge of growing certified organic apples that keeps him going. "When I get up in the morning," Read told us as he spread his arms wide and pointed to the trees, "this farm is 100% what I do."
Atlas Farm
(South Deerfield, MA)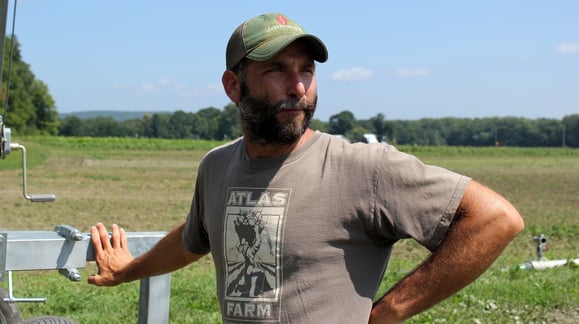 Gideon Porth, owner of Atlas Farm
Background: Atlas Farm and Boston Organics have a partnership that reaches back over a decade. Shortly after Gideon Porth graduated with a master's degree from the Plant, Soil and Insect Sciences Department at UMASS Amherst, he rented some land in central Massachusetts and started Atlas Farm. Jeff Barry founded Boston Organics in 2002 and began working with Gideon to get his wide variety of organic crops into household kitchens throughout the Boston area.
Over the years, the Boston Organics Community has grown alongside Gideon's farm. He visits our warehouse every winter and takes us on a tour of his fields every summer. Though we've been there many times before, there's always something new to learn.
What we saw: We met Gideon in the barn by his main fields in Deerfield, MA. The barn serves as his "headquarters" with a small office in the back, but it's also the place where he and his crew rinse and pack all of their colorful veggies before sending them off to us in Charlestown.
The Kitchen Garden, one of Atlas Farm's neighbors and a new member of the Boston Organics local farm partner network, happened to be dropping off some of their eggplants as we were arriving. Gideon sends a truck with his fresh harvests to us several times each week, and this summer he started bringing some of The Kitchen Garden's organic veggies along, too—saving them from having to drive it all the way into the city. (With the added benefit of conserving fuel usage in the process.)
Next to the barn are a few small greenhouses and a larger house where some of Gideon's farm staff live during the harvest season. Over time, Gideon has been able to buy all of this land and the fields surrounding it, in part, because Boston Organics provided Atlas Farm with a guaranteed market at the end of each harvest with a fair price worthy of his fresh, organic vegetables.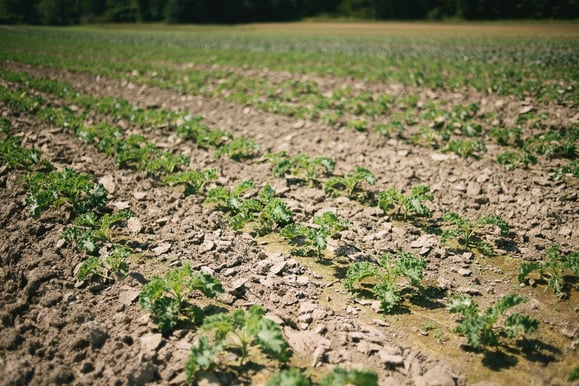 What we learned: A few years ago, Gideon purchased an additional plot of land by his roadside farm stand in South Deerfield, which he just finished converting into organic production. It takes three years to certify a new piece of farm land as organic, and during this time the fields provide very little additional income for the farmer.
Gideon explained to us how much work it took to get the land ready for organic production, especially because the previous farmer didn't do a great job of controlling weeds.
The weeds' seeds can stay in the ground for years, sprouting and taking over the field as soon as you start planting your crops. Unable and unwilling to use synthetic herbicides to kill them off, Gideon instead planted cover crops and manually tilled the land on a regular rotation. This process is time consuming and expensive, but in addition to killing off the weeds it also rebuilds the nutrient base in the soil so that it can sustain fresh, flavorful vegetables.
What to expect: Gideon is planning to use most of this new land to increase his production of organic lettuce and leafy greens, like kale, collards, calaloo, chard and dandelions. Previously, Atlas Farm practiced a harvesting method known as "repeated harvest," where the outermost leaves of each plant were harvested, leaving the plant to regrow another let of leaves.
This harvesting process is extremely slow and labor intensive, and the second harvest usually doesn't produce quite as flavorful and nutritious leaves. But for a small farm that needs to maximize yield to remain profitable, this had been the most effective method.
Now, with a little bit more land, Gideon is excited to be able to do more "single harvests" of his leafy greens. While he'll produce fewer greens per acre, the quality of his leafy greens will be more consistent. He'll also be able to turn the soil in the fields he planted earlier in the season, allowing him to plant another succession that can be harvested just after the first frost.
The Kitchen Garden
(Sunderland, MA)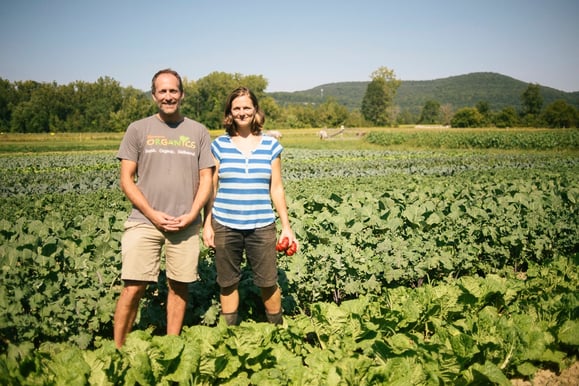 Jeff Barry, owner of Boston Organics with Caroline Pam, co-owner of The Kitchen Garden

Background: As we mentioned earlier, The Kitchen Garden is one of our newest local farm partners. The farm was started a few years ago by Tim Wilcox and Caroline Pam, a husband and wife team with a passion for cooking with farm fresh ingredients.
Unlike most of the farmers in central Massachusetts' Pioneer Valley, neither Caroline nor Tim grew up on a farm. But Tim studied agriculture at Hampshire College and the two of them have enmeshed themselves in the local community.
What we saw: We met Caroline at the main barn and because this was our first time visiting the farm, she gave us the full tour. The farm started with just two skinny, seven-acre strips of land, surrounded by plots farmed by other growers.
Because certified organic farmland requires a buffer zone of 25-50 feet between certified organic crops and land that may be sprayed with synthetic pesticides, it wasn't cost effective to get certified at first.
But within the last few years, Tim and Caroline were able to convince their conventional neighbors not to spray the edge of their fields, allowing The Kitchen Garden to plant nearly the full width of their strips. In the last two years, The Kitchen Garden also acquired a smattering of additional fields within a few miles of the main barn, creating a "scatterplot" of organic fields in Sunderland.
While it's definitely more work to take care of fields in multiple locations, Caroline explained that it provides the farm contingency. If one field is flooded or attacked by downy mildew, the rest will stay safe. Additionally, slightly different soil conditions and microclimates mean that they can plant fruits and veggies in the environment where they're best suited to grow.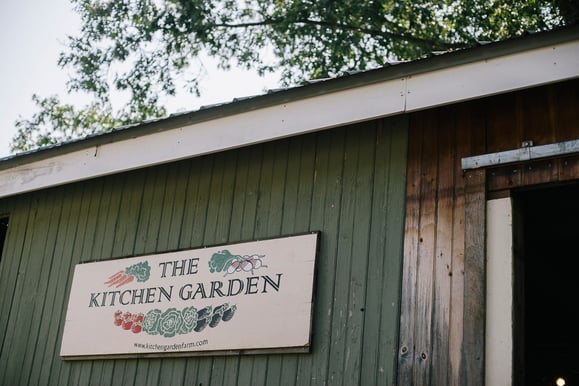 What we learned: We were extremely impressed to learn about the vibrant culture at The Kitchen Garden Farm. The crew is made up mostly of students from local colleges or recent grads who are interested in starting their own farms.
Alex, a member of their field crew who grew up in central Massachusetts, told us that he feels The Kitchen Garden is the best place to work and learn about organic agriculture. We could see why.
Every day during the harvest season someone is tasked with cooking "crew lunch." Everyone eats together by the main barn, giving them a chance to taste the gorgeous fruits and vegetables they've been growing and talk about them in detail.
"It's a good reminder for us to eat our veggies, even when we're tired," Caroline told us. Considering that she trained at the French Culinary Institute in New York, you can bet that these meals are better than anything you've eaten for lunch this week.
What to expect: The Kitchen Garden is continuing to grow! Tim and Caroline just signed the papers to build a new, larger barn that will be outfitted with enough solar panels to power the entire farm. They're also hoping to add a few more acres to their name and get a bigger tractor.
All of this means even more great tomatoes, cucumbers, eggplants and of course…chili peppers. Tim has developed his own homemade sriracha recipe made with all-organic ingredients and we were pumped to give it a taste. It's no coincidence that their annual Chilifest happening next week is their biggest one yet.
"We grow the stuff that people want to cook with," Caroline explained to us. As far as farms go, The Kitchen Garden is a relatively new one, but their name is already synonymous with incredible variety and outstanding quality. We can't wait to visit again soon.
---
This week, Dwight Miller and Son Orchards has a huge harvest of McIntosh apples and Atlas Farm has organic eggplant, fennel, chard, kale and red leaf lettuce for us to munch on. We also have fresh-cut mint, sweet corn and juicy blueberries from some of our other organic farm partners.
See what's in this week's boxes or click below for seasonal recipe ideas that will do justice to the summer's incredible flavors.