Tis the season for adjusted delivery schedules.
Boston Organics will not be making deliveries on Tuesday December 24, Wednesday December 25, or Wednesday January

1
.
Please see below for information on when we'll be delivering to your zip code during these holiday weeks. Jump to New Year's Week schedule.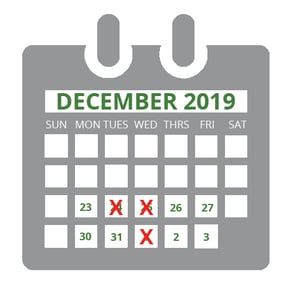 ---
Deadlines for Christmas Week Deliveries
Please observe the following adjusted Christmas week deadlines. These deadlines apply to cancellations, add-on orders, box type changes, produce preferences, payment updates, etc.:
| | | | |
| --- | --- | --- | --- |
| If you have a delivery expected to arrive on... | You must finalize box changes by... | Finalize bread orders by... | Finalize milk orders by... |
| Monday, Dec 23 | Friday, Dec 20 | N/A | Wednesday, Dec 18 |
| Thursday, Dec 26 | Monday, Dec 23 | Monday, Dec 23 | Friday, Dec 20 |
| Friday, Dec 27 | Thurs, Dec 26 | Monday, Dec 23 | Friday, Dec 20 |
---

DEADLINES FOR NEW YEAR'S WEEK DELIVERIES
Please observe the following adjusted New Years week deadlines. These deadlines apply to cancellations, add-on orders, box type changes, produce preferences, payment updates, etc.:
| | | | |
| --- | --- | --- | --- |
| If you have a delivery expected to arrive on... | You must finalize box changes by 12:00 pm... | Finalize bread orders by... | Finalize milk orders by... |
| Monday, Dec 30 | Friday, Dec 27 | N/A | Monday, Dec 23 |
| Tuesday, Dec 31 | Monday, Dec 30 | Friday, Dec 27 | Friday, Dec 27 |
| Thursday, Jan 2 | Tuesday, Dec 31 | Tuesday, Dec 31 | Friday, Dec 27 |
| Friday, Jan 3 | Thursday, Jan 2 | Tuesday, Dec 31 | Friday, Dec 27 |
| Monday, Jan 6 | Friday, Jan 3 | N/A | Tuesday, Dec 31 |
SKIPPING A DELIVERY
Log in and skip deliveries on the Delivery Schedule/History tab. If you have any questions about deliveries during the week of Christmas or New Year's please reach out to Service@BostonOrganics.com