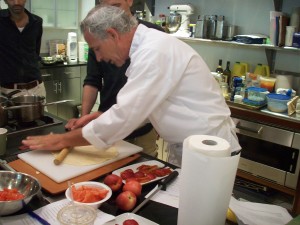 This past Saturday, we had the pleasure of co-hosting a cooking class called "Cooking Outside the Box with Boston Organics" at the Boston Center for Adult Education. Our culinary guide Chef Bernard Kinsella put together an excellent menu of delicious, healthy recipes that incorporated the produce from last week's 2/3 Vegetable Box. We chopped, we baked, we laughed, and we learned how to make great-tasting dishes from simple, fresh ingredients. Oh, and we ate tons of great food!
Chef Bernard's Menu:
Salad with Sliced Pear and Blue Cheese
Baked Onions stuffed with a filling of squash, peas, and mushrooms
Whole Wheat Pasta with Broccoli Pesto
Plum Tart
Low Fat Chocolate Mousse with Banana
If you missed out on this class, be sure to stay tuned for details about the next cooking class with Boston Organics.
We're always looking for new ways to help you make the most out of your produce. Do you have a suggestion for a class or event? Contact us and let us know!
To check out some of Chef Bernard's recipes and cooking videos, visit his website at www.chefbernards.com.