Written by Lillie, a Boston Organics customer!
October 1, 2011
I had the distinct pleasure of sharing my morning with Chef Bernard Kinsella as he led me, along with eight other students, on a culinary adventure which was as deliciously refreshing as it was creatively thrilling. Most importantly, every step of the cooking process proved to be remarkably simple and fool-proof for reproducing at home. No longer will beets or swiss chard wink mockingly at me from the produce bin as I cast about for ways to prepare them. They, as well as the other ingredients from our box, have been transformed into accessible tools in my cooking repertoire.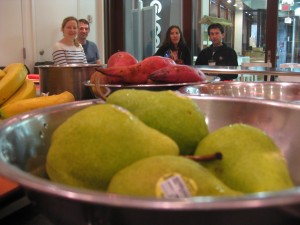 We started with the contents of a typical large-sized two-thirds vegetable box: bananas, pears, plums, apples, grapefruit, oranges, an acorn squash, alfalfa sprouts, broccoli, carrots, chard, chives, sweet potatoes, gold beets, Napa cabbage, red leaf lettuce, russet potatoes, and yellow onions.
Two hours and countless laughs later, we were savoring a colorful feast of complex and well-balanced flavors which we had crafted ourselves. The bananas served as a motivating snack as we tackled the other dishes. We prepared spring rolls with the cabbage and carrots, as well as a garlic-soy sauce and a spicy peanut dipping sauce. Next came a simple salad of red leaf lettuce, orange, grapefruit, pears, and a citrus balsamic vinaigrette. This was followed by two spectacular and very simple soups – one with the russet potatoes, the other with the acorn squash. (Pro tip: Roasting the squash whole makes it much easier to cut and prepare.)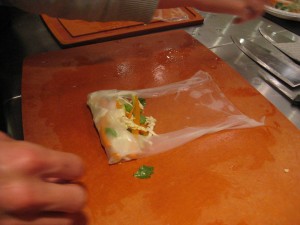 We also made a bell pepper, carrot, and Swiss chard coleslaw, garnished with the alfalfa sprouts. The sweet potatoes were cut into spears and roasted in olive oil, then served with gorgonzola. The beets were roasted whole, then peeled and served with the remaining caramelized onions from the soups. Finally, the incontestable stars of the meal were the plum tart and the apple strudel.
The truest compliment to this class and Chef Bernard lies in the thoughts that came to me only after I had left. The meal we had prepared was completely vegetarian, it did not include pasta or rice as filler, and yet it was completely satisfying. The produce stood, and shone, all on its own merits. Fruits and vegetables will no longer be relegated to a supporting role, and through classes like this one with Chef Bernard, we can all learn to help them find their rightful place in our lives and on our plates: center stage.
The next cooking class with Chef Bernard and Boston Organics is Saturday, November 19, 2011 at the Boston Center for Adult Education. For more information and registration details, click here.