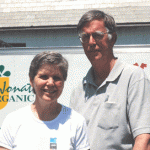 How it all began:
In the early 1970's, Bob and Barbara Sanderson started growing organic sprouts in an old barn in Rochester, MA. With a few alfalfa seeds and a vision of growing and selling good, healthy produce year-round, they started growing sprouts on a small scale for friends and small retailers. In 1976, they convinced Shaw's to start carrying their products, and they've been in business ever since.
Where they are now:
With approximately 50 employees and 2 facilities in Massachusetts, Jonathan's Sprouts is a leader in the sprout industry and supplies sprouts for supermarkets, specialty markets, wholesale distributors, and small grocery services like Boston Organics!
Bob and Barbara have been credited with bringing sprouts to the retail market in the New England region. In the early 1980s, Bob and Barbara founded the New England Sprout Growers Association, which, in 1989, seeded the International Sprout Growers Association, The associations bring together sprout growers from around the world every year to discuss important topics within the industry and strengthen the relationship between sprout growers worldwide. Bob and Barbara also played an instrumental role in bringing organic produce - as a category - to mainstream supermarkets.
Products:
Jonathan's grows a variety of delicious sprouts, including: radish sprouts, broccoli sprouts, pea shoots, mung bean sprouts, alfalfa sprouts, clover sprouts, sunflower greens, and a "Munchin' Mix" of peas, lentils, and adzuki beans. Jonathan's grows all products using organic practices. During Massachusetts cranberry season (October through December), Jonathan's also packages and distributes organic cranberries from local Massachusetts cranberry growers.
Why organic?
"It's very important to me that we don't contaminate the environment with pesticides," says Barbara Sanderson. "Equally important is the nutritional aspect of organic produce. Plants that are not chemically fertilized send out enzymes that digest the soil, absorbing many micro-nutrients not available in the "instant" fertilizers. These "phyto-chemicals" (plant chemicals) are well known in research for helping prevent chronic and age-related diseases, as well as cancers."
"I'm definitely an organic consumer."
What's your favorite fruit or vegetable?
Barbara: "I'm eating a lot of sprouts. I spread hummus or another spread onto a piece of flat round whole wheat bread, put an ounce of sprouts on it, and roll it up. I also love avocado. Avocado and Alfalfa sprouts make the best sandwich. You don't even need a dressing."
What's next for Jonathan's Sprouts?
They're working with a grower in New Jersey who grows beautiful rainbow microgreens. They're hoping to bring these microgreens to supermarket shelves in the near future.
We're thrilled to continue our relationship with Jonathan's Sprouts and provide our customers with some of the healthiest and best tasting organic sprouts on the market. Stay tuned for photos and videos from our visit with Jonathan's and their cranberry growers!