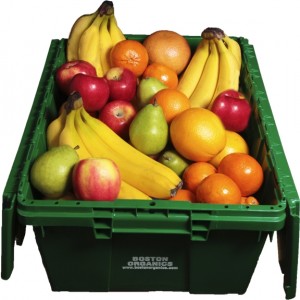 We are now delivering fresh organic fruit to offices in Waltham on Mondays!
For businesses that would like to provide an alternative to vending machines and unhealthy snacks, Boston Organics will regularly deliver organic fruit boxes which contain a variety of fresh fruits directly to your office or break room.
The "Office Box" contains an ever-changing variety of fresh fruits that are easy to eat in the workplace, including bananas, apples, pears, and citrus or seasonal fruits.
Many people want to eat healthily and at the same time support a healthy food system; however, right now it is difficult for many people to carry this philosophy into the workplace due to the lack of convenient, healthy options.
We look forward to helping fellow business illustrate their commitment to health and sustainable practices by making organic fruit available to their employees.
If you're interested in getting fruit for your office, Boston Organics is now delivering to businesses in Waltham on a weekly or biweekly basis, without long-term commitments or delivery fees.
For more information and to sign up, visit www.bostonorganics.com/office.