The Dogma Box contains produce that is organic and sourced as close to Boston as possible, and this week we have a nice mix of produce from Massachusetts and Vermont. We're getting turnips and Diakon radishes from one of our key partners in local agriculture, Atlas Farm in S. Deerfield, MA. We work with Atlas mostly during the summer and fall, so we're excited to get some of their root crops for you during the off-season. We're also pleased to have fresh rosemary (one of the best herbs for roasting with root veggies) from Happy Valley Organics in Whately, MA.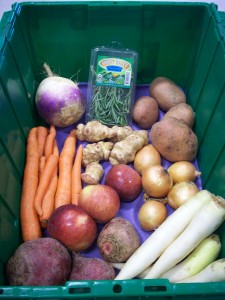 This week's Dogma Box includes:
What's a Chiogga Beet? The Chioggia beet is often called a candy cane beet because of its beautiful pink and white stripes on the inside. It loses some of its color when cooked, but it doesn't lose any flavor! Chioggia beets can be prepared just like other beets – steamed, roasted, sautéed, and pickled.
Here are some recipes we recommend for this week's Dogma Box:
What are you cooking this week? Feel free to share with us at any time! For more recipes, check out the Produce Info, Storage Tips and Recipes section on our website and browse recipes by item. Here you can find nutritional information, preparation tips, and recipes for each produce item we offer.
Happy eating from your friends at Boston Organics!