The holiday weekend was the unofficial start to summer and the warmer weather brings us a variety of Massachusetts-grown greens from our farm partners this week. Fresh arugula and green leaf lettuce came in from Atlas Farm in South Deerfield. Also from the Commonwealth: Mint from Happy Valley Organics in Whately and Sprouts from Jonathan's Organics in Rochester.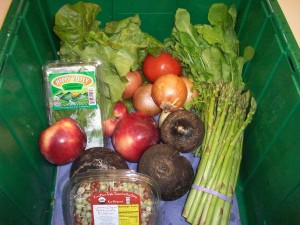 This week's Dogma Box includes:
Here are some recipes we recommend for this week's Dogma Box. These utilize many of the produce items that you're receiving!
Black Radishes
Although it's started to feel like summer, some root vegetables are still available and this might be the last week of black radishes in your boxes. Get creative with your radish! Great in salads, radishes are often eaten raw, but the black radish can also be peeled and cooked like a turnip. This flavorful tuber is more versatile than you might think. You could try making:
What are you cooking this week? Feel free to share with us at any time! For more recipes, check out the Produce Info, Storage Tips and Recipes section on our website and browse recipes by item. Here you can find nutritional information, preparation tips, and recipes for each produce item we offer.
Happy eating from your friends at Boston Organics!