Written by Meg Sela, fiance of Boston Organics employee Adam!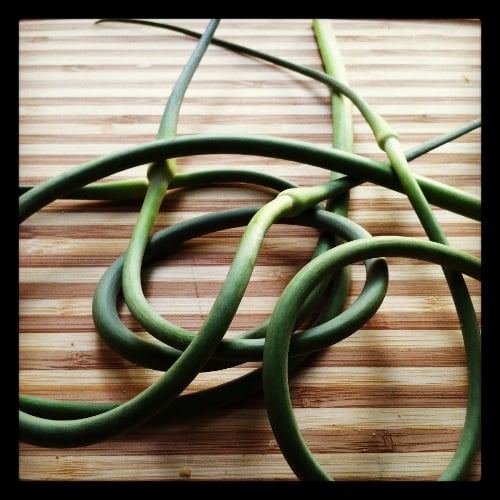 It's my favorite time of year- garlic scape season! My obsession has grown over the last three years from when I was first introduced to garlic scapes. Since I never remember the exact time they come in, my late spring and early summer is spent stalking every farmer's market and begging my fiance (Boston Organics Employee) to let me know as soon as they arrive. My response to this year's arrival was the most emphatic "omg, omg, omg" since I was 13 at my first Backstreet Boys concert. Ok, you may think I'm a freak by now, but they are just so rare and so delicious, I savor every meal I make with them.
Most recently I've been making a green goddess-esque salad dressing.
Garlic Scape Salad Dressing
6 garlic scapes (trim off from the bulb up)
1tbsp agave nectar
1tbsp white wine vinegar
Juice from 1/2 lemon
1/4-1/2 cup of sunflower seed oil
Salt to taste
In a food processor or blender, place all ingredients save for the oil. Once all the ingredients are well blended, slowly pour in the oil. Mix for 3-5 minutes until liquefied. The dressing will be thick and creamy.
Suggested salad pairing:
Romaine Lettuce or Olivia's Organics 50/50 Blend
Topped with:
Diced white radishes
Diced onion
Crumbled feta
Sweet corn
Diced apples
Diced white mushrooms
Enjoy!!