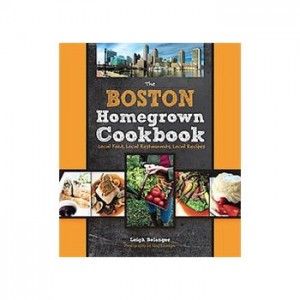 Celebrate the 4th of July early with Boston Organics and take part in this week's Summer Sweepstakes Bonus Point Challenge. From now until the middle of August, customers can earn points for each delivery received during the Sweepstakes time period and for participating in our Weekly Promotion for bonus points. Why accrue points? So you, Loyal Customers, can win prizes!
If you have 5 or more points at the end of the Sweepstakes, you will be eligible to win one of our amazing prizes like a copy of The Boston Homegrown Cookbook: Local Food, Local Restaurants, Local Recipes by Leigh Belanger.
Published in May, this beautiful book showcases recipes by season from 28 chefs and restaurants in the Boston area who subscribe to the philosophy that locally grown, sustainable foods taste best. Colorful photographs of the dishes, chefs, and local farmers adorn the pages. Learn to cook winter squash and mushroom tarts from Chef Jody Adams (Rialto), read about seafood with Chef Nuno Alves (Tavolo), and prepare Chef Jeremy Sewell's (Lineage and Island Creek Oyster Bar) tangy oyster mignonette.
To earn a bonus point this week, first view our newly minted video Boston Organics - Home & Office Delivery of Organic Foods about Boston Organics and some of our farmers on Youtube and then share it on Facebook or Twitter. Be sure to tag Boston Organics so we'll know to give you the point!
Click here to watch the Boston Organics video!
For more information on our Summer Sweepstakes, read about it on our blog!