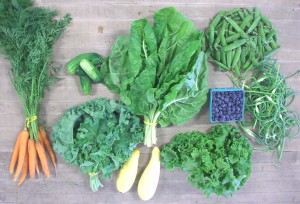 We haven't had fruit in the Dogma Box for a little while, so we're excited to get local organic blueberries for you this week! Blueberries are coming in from Dwight Miller & Son Orchards (E. Dummerston, VT), our fall apple grower. Blueberries thrive in the cool northern New England weather and are the perfect July super fruit. They taste good and are good for you. A great addition to any meal, savory or sweet, blueberries taste delicious in baked goods, mixed into salads, or atop a summer pizza. A natural anti-oxidant, eating blueberries may reduce the risk of cancer, heart disease and memory loss due to aging.
This week's Dogma Box includes:
These dishes will hit the spot on a hot summer evening and the recipes utilize many of the produce items that you're receiving in this week's Dogma Box.
Blueberry Banana Buttermilk Bread
Shell Pea, Carrot and Arugula Salad with Feta
What are you cooking this week? Feel free to share with us at any time! For more recipes, check out the Produce Info, Storage Tips and Recipes section on our website and browse recipes by item. Here you can find nutritional information, preparation tips, and recipes for each produce item we offer. Happy eating from your friends at Boston Organics!