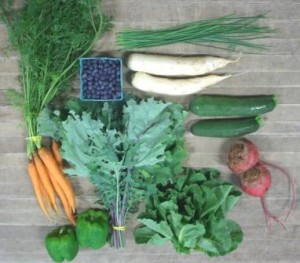 Beet the heat! This week's all-local Dogma Box is a colorful mix of New England bounty. Purple Chioggia beets and green bell peppers complement bunches of carrots with tops on, blueberries and the white Daikon radish.
This week's Dogma Box includes:
Below are a few recipes chosen to satisfy your palate even in this heat! The recipes utilize many of the produce items that you're receiving in this week's Dogma Box.
Jazar wa Kusa (Zucchini and Carrots)
Quinoa Salad with Beets, Daikon Radish and Feta
What are you cooking this week? Feel free to share with us at any time! For more recipes, check out the Produce Info, Storage Tips and Recipes section on our website and browse recipes by item. Here you can find nutritional information, preparation tips, and recipes for each produce item we offer. Happy eating from your friends at Boston Organics!