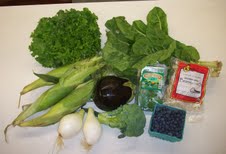 We're delivering a zesty box full of yummy summer foods! As colorful a mix as it is nutritious, this week's box balances savory and sweet with fresh blueberries, corn on the cob and broccoli crowns. Atlas Farm has uncured Spanish onions for us this week. These onions need to be refrigerated since they are not cured.
This week's Dogma Box includes:
The included recipes utilize many of the produce items that you're receiving in this week's Dogma Box.
Blueberry Whole-Wheat Pancakes
Broccoli with Mung Bean Sprouts
What are you cooking this week? Feel free to share with us at any time! For more recipes, check out the Produce Info, Storage Tips and Recipes section on our website and browse recipes by item. Here you can find nutritional information, preparation tips, and recipes for each produce item we offer. Happy eating from your friends at Boston Organics!