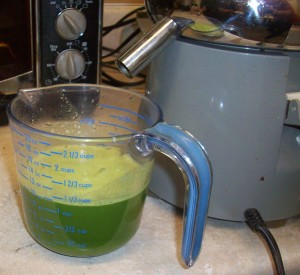 The break room at Boston Organics has been renamed the Boston Organics Test Kitchen today! We're juicing here in Charlestown, learning the ins and outs of raw food fashion.
There are many positive reasons to juice. Juicing allows you to consume an optimal amount of vegetables in an efficient manner. A small glass of juice will supply you with a large amount of micro nutrients from a variety of fruits and vegetables. Proponents believe juicing is better for you than is eating whole fruits and vegetables because your body can absorb the nutrients better. While this is still up for debate, if you don't enjoy eating fresh fruits and vegetables, juicing may be a fun way to add them to your diet or to try fruits and vegetables you normally wouldn't eat. It is a great way to add more variety to your diet. If you do try juicing, make only as much juice as you can drink at one time because fresh squeezed juice can quickly develop harmful bacteria. And when juicing, try to keep some of the pulp. Not only does it have healthy fiber, but it can help fill you up. Using organic fruits and vegetables for juicing is recommended because you want your drink to be as pure as possible.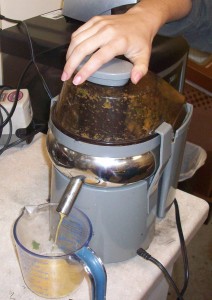 If you would like to try juicing, and have a juicer handy, try this basic juice recipe! Be sure to wash your produce before putting them into the juicer, but beyond that there's not much prep work. So long as the juicing items can fit in the juicer they can often be fed through as is.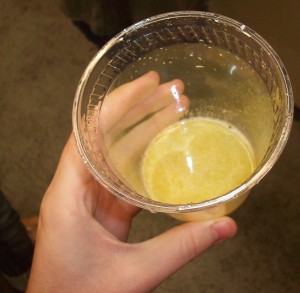 Ginger Zinger
3 Carrots
1 Apple (cored and quartered)
1/2" knob of ginger (peeled)
Makes 1 serving
*NOTE: We used Rainbow Bunched Carrots so juice color may vary