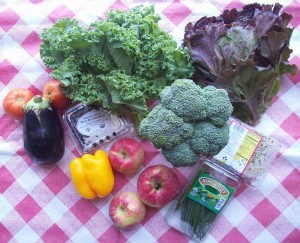 Deliciousness is sprouting at Boston Organics! This week's box is filled with all New England grown items. Broccoli and apples from VT, blueberries from ME, and many Massachusetts produce including alfalfa and radish sprouts, yellow bell peppers and chives.
Refrigerate your sprouts in a loose plastic bag perforated with a few holes so that water doesn't condense. If your sprouts arrived in a plastic clam-shell container you can refrigerate them in the container. Try to use as quickly as possible for the best flavor and texture. Sprouts are an excellent source of many essential vitamins and minerals and make a tasty addition to most any sandwich.
This week's Dogma Box includes:
Alfalfa and Radish Sprouts –Jonathan's Organic (Rochester, MA)
Broccoli - Deep Root Organic Coop (Johnson, VT)
Kale- Atlas Farm(S. Deerfield, MA)
Asian Eggplant- Atlas Farm(S. Deerfield, MA)
Salad Tomatoes - Atlas Farm(S. Deerfield, MA)
Red Leaf Lettuce - Atlas Farm(S. Deerfield, MA)
Yellow Bell Peppers - Atlas Farm(S. Deerfield, MA)
Chives - Happy Valley Organics (Whately, MA)
Paula Red Apples - Dwight Miller & Son Orchards (E. Dummerston, VT)
Blueberries- Burke Hill Farm (Cherryfield, ME)
The included recipes utilize many of the produce items that you're receiving in this week's Dogma Box. Our recipes are usually quite flexible and easily adaptable based on your pantry and your dietary needs. Feel free to get creative in the kitchen! If you come up with new ways to use some of our recipes and would like to share, post them on our Facebook or Tweet us.
Panzanella with Eggplant, Corn and Tomatoes
What are you cooking this week? Feel free to share with us at any time! For more recipes, check out the Produce Info, Storage Tips and Recipes section on our website and browse recipes by item. Here you can find nutritional information, preparation tips, and recipes for each produce item we offer. Happy eating from your friends at Boston Organics!