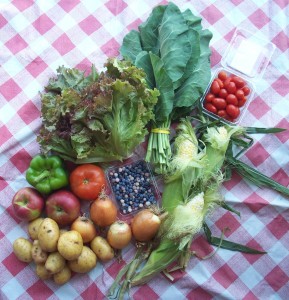 Fall is in the air, and many of the growers we work with are beginning their autumn harvest. We have gold potatoes and onions coming in from Atlas Farm in Deerfield MA, along with green leaf lettuce, lots of tomatoes, and green bell peppers. Just like the recent changes in weather, we're seeing an interesting mix of end of summer and early fall produce. It looks like this may be the last week for the ½ pints of wild blueberries from Burke Hill Farm in Maine. As we say goodbye to these sweet little berries, McIntosh Apples are coming into their prime, arriving from Dwight Miller & Son in East Dummerston, Vermont. We are still receiving tomatoes and some corn, and we're also seeing potatoes. This week's box looks to be hearty and offers great variety for dishes both savory and sweet!
This week's Dogma Box includes:
Corn –Lakeside Organics (Hadley, MA)
Grape Tomatoes –Lakeside Organics (Hadley, MA)
Green Bell Peppers- Atlas Farm(S. Deerfield, MA)
Yellow Onions- Atlas Farm(S. Deerfield, MA)
Salad Tomatoes - Atlas Farm(S. Deerfield, MA)
Green Leaf Lettuce - Atlas Farm(S. Deerfield, MA)
Gold Potatoes - Atlas Farm(S. Deerfield, MA)
Collard Greens - Atlas Farm(S. Deerfield, MA)
McIntosh Apples - Dwight Miller & Son Orchards (E. Dummerston, VT)
Blueberries- Burke Hill Farm (Cherryfield, ME)
The included recipes utilize many of the produce items that you're receiving in this week's Dogma Box. Our recipes are usually quite flexible and easily adaptable based on your pantry and your dietary needs. Feel free to get creative in the kitchen! If you come up with new ways to use some of our recipes and would like to share, post them on our Facebook or Tweet us.
Turkey Meatloaf with Tomato Topping
What are you cooking this week? Feel free to share with us at any time! For more recipes, check out the Produce Info, Storage Tips and Recipes section on our website and browse recipes by item. Here you can find nutritional information, preparation tips, and recipes for each produce item we offer. Happy eating from your friends at Boston Organics!