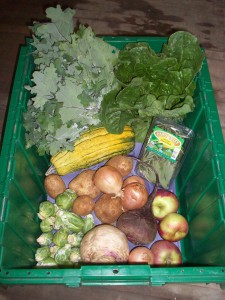 The Dogma Box is transitioning into local fall produce in a lovely way. Atlas Farm is moving further into their fall harvest and that means potatoes, onions, and beets are being added to the list.
We're also starting to work more with Deep Root Organic Coop, a cooperative of almost 20 organic farms in northern Vermont and southern Quebec. We work with them mostly in the colder months to get some of the best root veggies around! This week we're getting delicata squash, turnips, and Brussels sprouts from Deep Root.
This week's Dogma Box includes:
Brussels sprouts are very hard to find locally, and these look particularly great. We've got a few preparation tips and recipes for this notorious veggie on our Brussels Sprouts page.
Recipes
The recipes below work well with many of the items that you're receiving in the Dogma Box this week. These recipes are usually quite flexible and easily adaptable based on your pantry and your dietary needs. Feel free to get creative in the kitchen! If you come up with new ways to use some of our recipes and would like to share, post them on our Facebook or Tweet us.
What are you cooking this week? Feel free to share with us at any time! For more recipes, check out the Produce Info, Storage Tips and Recipes section on our website and browse recipes by item. Here you can find nutritional information, preparation tips, and recipes for each produce item we offer. Happy eating from your friends at Boston Organics!